Firemen, forest tables
Sophomore donated table to Lucas Fire Department
In the back of the fire department, the table's temporary home matches with the previous table and bench. It's aluminum strength protecting it for future years. On the pine tabletop, a plaque with the classic fire department badge, and the words "In honor of our hometown heroes" lay in marker font. 
Sophomore Dawton Bruner built a table for the Lucas Fire Department as his Eagle Scout project. He dropped it off on Nov. 7.
"The hardest part in building the table was squaring it," Dawton said. "Squaring is making the table straight, so making all the angles right and making sure it is straight up and down."
His brother, Landen Bruner, also did the same project to get his Eagle Scout rank almost six years ago.
"My family helped me build it," Dawton said. "They just helped turn wrenches and stuff. [They] drill holes, turn wrenches, cut, grind, [and] smooth."
Dawton used leftover materials from his brother's project and donated materials from companies such as Tower Extrusions in Wylie to create the table.
"Being a scout didn't help," Dawton said. "[Being] a scout just taught me to be a better person, but this was manual labor." 
Dawton achieved the highest rank in Boy Scouts of America, Eagle Scout, on Dec. 7. 
 "We like the fire department," Dawson said. "The fire department was there when I wretched my dune buggy and broke my arm. Plus, some of them are friends with my parents."
Before Dawton became an Eagle Scout, he was a Life Scout in Troop 224.
"My favorite moment was when we broke a few things [such as] drill bits and saw blades because we got to learn," Dawton said.
The table is engraved with Isaiah 43:2 New Living Translation: "When you go through deep waters, I will be with you. When you go through rivers of difficulty, you will not drown. When you walk through the fire of oppression, you will not be burned up; the flames will not consume you."
"The bible verse is because I am a Christian," Dawton said. "The verse just felt right."
Dawton had prior knowledge on building a table from helping Landen with his project. 
"I made the table by hand," Dawton said. "[It was] just cutting things and drilling and then putting it together."
The table includes three plaques with the names of each firefighter and emergency personnel on each shift (shift A, B and C).
"He came back up a couple of days after and met with each of the shifts," firefighter and paramedic Thomasz Wood said. "They brought us food, which we ate out on the table, obviously. Then, I think the gentleman also took photos with each of the shifts."
The fire department is looking for a specific place for the tables in the front.
"Personally, we love it," firefighter and paramedic Sean Peterson said. "We like all that community interaction, and we try to give back as much as we can. Then, people try to show them that appreciation as well. Anytime that we can interact and kind of keep it a close knit community. We love that, so whether it's a table or it's just little food items here and there or just seeing people at the store. We love it."
Leave a Comment
About the Contributor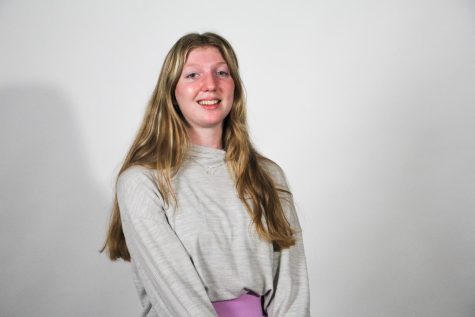 Calla Patino, Editor-In-Chief
Strolling into her third year on staff, senior Calla Patino is ecstatic to be back in the newsroom as an Editor-In-Chief, leaving her summer days of folding...