Cross country prepares for regional meet
On Tuesday, the cross country team participated in the district meet. The girls and boys varsity teams qualified for the regional meet that will take place on Monday, Nov. 9. 
"I am so proud of our team this year and all the hard work we have been putting in," junior and varsity runner Katie Armstrong said. "The team is super dedicated and always puts in the work no matter what. We have gotten super close to each other this season, and we are all so excited to see our work pay off."
While the harsh weather conditions added an extra challenge for the team, they were able to adjust accordingly allowing them to continue their season. 
"Since it was below freezing and raining, the conditions made it difficult to run a personal record time, however I placed third for Lovejoy and fifth overall at the meet for varsity," junior and varsity runner Riley McGowan said.
The team is continuing to practice focusing on the things they need to improve on individually in order to help the team succeed.
"I really want to improve on running closer to my teammates throughout the race so that we can work together throughout the races," Armstrong said. "To prepare for races, the day before we do a shakeout run. The night before I eat some pasta and go to bed super early to get a good night sleep before the race day."
If the team does well at regionals, they will advance to state,, which is scheduled for Nov. 23.
"My goal for the season is [to] be an alternate, or race at the state meet," freshman and junior varsity runner Andrew Poulton said. "I am very proud of the team. We get out there and practice[d] everyday. We didn't let this cold air stop us, and kept fighting, and got a great district champion win for both varsity and JV. We are out there everyday working as hard as we can."
Leave a Comment
About the Writer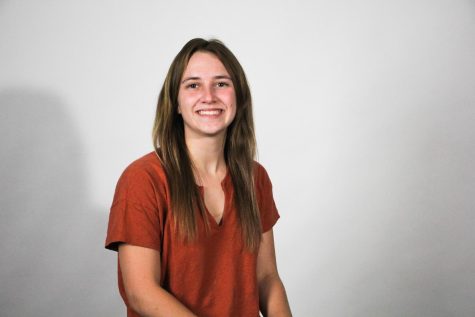 Audrey McCaffity, Section Editor
Beginning her fourth and final year on staff, Audrey McCaffity is more than excited to take on the role of Community Editor. The past four years have been...