Girls cross country heads west for nationals meet
This past Saturday, the girls cross country team received national recognition as they were flown out to Portland, Ore. to compete in the Nike Cross National. Seniors Amy Morefield along with juniors Sara Morefield, Peyton Benson, Kailey Littlefield, Kate Carlson and freshman Camryn Benson and Joceln Chapman all competed in the event.
"It was so cool, and such a great experience," Benson said. "We felt that all our hard work had paid off, and we had so much fun; it was a surreal experience, and we will never forget it."
There were 22 schools from all across the nation that competed in the event.
"We were all very excited," head coach Carly Littlefield said. "It is very difficult to qualify for Nike Nationals; only 22 teams across the United States qualify. We had to knock off a 6A team to do this. The way the girls handled that adversity was awesome. We also knew that the national race would be a rare opportunity that very few athletes get to experience."
The team was flown out by Nike themselves over 2,000 miles across the country. They received numerous amounts of Nike gear and apparel while there.
"We felt so famous, and it was such a cool experience," Amy said. "We got to see all the best runners in the country; we got the best food and a lot of new Nike gear. We were so thankful and blessed that we got this opportunity. It was the best weekend ever."
The team placed 14th out of all the teams.
"The girls ran well; it's a whole new level of racing," Carly said. "There are 200 girls in the race, and the majority of them are extremely fast. It is challenging to go from being in the front of every race to suddenly being in the middle pack of the race. That's what Nationals is like. We have to work on our mentality when racing at that level, but overall the girls held their own and competed with intensity and high effort. That's all you can ask."
For the Leopards, Amy Morefield finished 57th overall, Sara Morefield finished 66th, Peyton Benson in 80th, Camryn Benson in 81st, Littlefield in 83rd, along with Chapman and Carlson who finished in 140th and 144th place.
"I feel like everyone performed as well as they could have," Amy said. "Since we train in Texas, the cold weather in Oregon is hard for us to handle so we performed as well as we could."
The national meet was a cherry on top to the success the team had this year. However, the Leopards don't plan on stopping here; they have their sights set on next season and the limitless possibilities of success to come.
"We are all so grateful for this past cross country season," Benson said. "We are all on a high which makes us even more excited for the track season coming up. We are also so excited to come back to Nike Nationals next year because we already have future plans of qualifying. We know we can perform better and we are excited to see what we can do next year."
Leave a Comment
About the Writer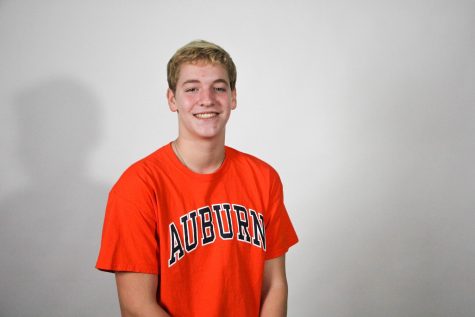 Will Doig, Section Editor
Entering his farewell year, senior Will Doig is excited about becoming a sports editor. Outside of the newsroom, you can find Doig watching any latest...