Softball players selected to all-metroplex team
Senior softball players Mackenzie Mitchell and Leah Taylor were selected to be a part of DFW Fastpitch's 2020 All-Metroplex Senior Squad. The seniors were chosen based on their entire highschool career performance and results. They will have the opportunity to play in the DFW FP All-Star Game in Frisco in June.
"Being selected for the squad is an honor to me, Taylor said. "It was a very nice thought of them to still recognize some seniors even though we were unable to have a season due to the circumstances."
In previous years, DFW FP created their all-metroplex team from all grades freshman through senior, but with the season being cut short, they decided to create a seniors team. 
"Mack also being selected is really special," Taylor said. "The last four years we have been playing together and growing as teammates. It's really nice to know we are ending all of this together."
Taylor was selected as an infielder and Mitchell as an outfielder.
"Having my teammate Leah selected with me makes it even better," Mitchell said. "We have been together for four years now, and we care a lot about each other so it feels great to have our hard work pay off."
Being selected for the team means that you are a top-level softball player in the metroplex.
"To have two representatives from Lovejoy make the all-area team is a phenomenal honor," softball coach Brittany Lee said. "Both Leah and Mackenzie worked extremely hard on and off the field, and I am confident their senior season would've been their best one yet. This honor solidifies the efforts and countless hours they've put into their craft to build this program and those efforts, obviously, did not go unnoticed — even with the season being cut early."
While Taylor will likely not be playing in the game, because of a conflict with her select team's season, Mitchell does plan on participating. Taylor and Mitchell have played softball since they were 7 years old. 
"Softball has impacted me tremendously in my life," Taylor said. "It has taught me how to work hard, stay motivated, and has given me some of my best friends." 
Mitchell is hopeful about getting one last game to cap off her high school career.  
"Even though I'd love to be with all my teammates, I know [the senior game] is still something and that is nice to have," Mitchell said. "Softball has made me the person I am today, because it has taught me so many things about myself and how to be a leader. It gives me something to be passionate about and work for. I really don't know who I'd be today without it."
About the Photographer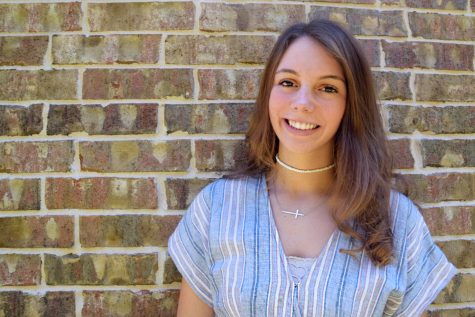 Katie Dolberry, Section Editor
Heading into her second year on staff, senior Katie Dolberry is excited to take on the role of sports editor and photographer. She would like to pursue...