Cross country reflects on state meet
The boys and girls varsity cross country teams traveled down to Round Rock this past Saturday to compete in the 5A state meet. 
The boys team finished in fifth place overall with a point total of 178 while El Paso Eastwood finished first with 51 points and Grapevine came in second with 110 points. The boys were led by senior Will Muirhead, who finished fourth overall with a time of 14:59.28. Fellow senior Brady Laboret finished second for Lovejoy and 34 overall with a time of 15:44.54. The boys ran the best they have at the state meet this year with a better overall team average time than when they won their state championships in 2017 and 2018. 
After competing in his last state meet of his high school career, Muirhead beat his personal record and is excited to see what the team accomplishes next year when the senior class graduates. Muirhead just committed to running next year at Oklahoma State University, a top 25 Division I program in the NCAA. 
"I was happy finishing fourth in my final state meet because I was able to help my teams score and get a new PR," Muirhead said. "Based off the results this season, I believe that the future for Lovejoy Cross Country is very bright, and I am excited to see what they accomplish next year."
Although the team will be losing some of their top runners from the senior class, varsity head coach Logan Kelly knows he has younger runners who are ready to step up and fill the shoes of the boys leaving to continue to compete at a high level. 
"We have a large senior group this year. Five of those seniors ran with the state group, so losing them after this year definitely is a loss going into next year," Kelly said. "With that in mind we have five runners in our top ten returning next year. We also have other younger classmen ready to step up. Each year we lose runners and our team rises to the occasion of filling in for those who graduate."
The girls team finished sixth overall after making a team appearance at state for the first time since 2011. The girls were led by freshman Amy Morefield who reached the podium by finishing third overall with a time of 17:34.74. Junior Amelia Carothers finished 61st overall with a time of 19:17.60. 
After completing a very successful first full cross country season, Morefield says she is grateful to be able to experience all of this and is pretty pleased with how the UIL season turned out for the most part. 
"This season has been for the most part pretty successful. I have been happy with most of the races," Morefield said. "I really think I stepped it up by working on my form with the help of my coach. I just feel so lucky that I get to experience this."
Girls  coach Carly Littlefield says she knows it will be a hard time losing the senior class because they are great leaders, but she knows the impact they are leaving on the younger class in that category.
"Losing our seniors is going to be tough. We have some huge leadership and many girls who have been dedicated to this team; it is a great senior class," Littelfield said. "However, we have a leadership team, and the seniors mentor those younger girls, so they will be ready to step up and carry on traditions and leadership that make our team special."
Leave a Comment
About the Writer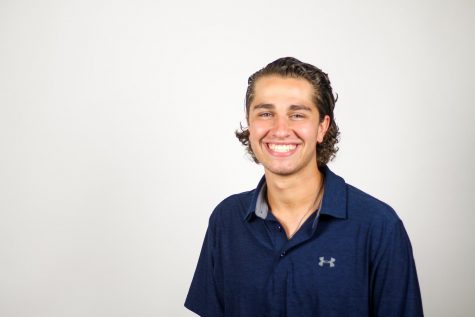 Matthew Piccirillo, Staff Writer
In hopes of bringing a lively personality to The Red Ledger, Matthew Piccirillo decided to join staff for his senior year. Filled with laughs and smiles...