Cross country to build on Marcus Invitational performance
The boys and girls cross country teams opened up their seasons last weekend at the Marcus Invitational Meet on Saturday in Denton. The boys varsity team, ranked number two in the state in 5A preseason rankings, finished fifth overall, scoring 239 points while placing behind 6A powerhouses like Flower Mound (1st with 54 points) and Southlake Carroll (2nd with 92 points). Seniors Will Muirhead (15:37.40) and Brady Laboret (16:00.12) finished first and second for Lovejoy and 11th and 23rd overall.
The girls varsity team finished fifth overall as well, scoring 207 points while placing behind Flower Mound (1st with 64 points) and Southlake Caroll (2nd with 68 points). Freshman Amy Morefield finished first for Lovejoy, taking 16th place overall with a time of 17:26.09.
Competing in her first every high school cross country race, Morefield took the race by storm against some of the top runners in the state for 5A and 6A classifications. Even though the pressure was felt, she succeeded with her coaches using a competitive edge while racing the other girls.
"I didn't know I had that in me at all I came in the race expecting to run a lot slower than I did," Morefield said. "There were a lot of fast girls pushing me to go faster, and I had my amazing coach to help. For the first cross country race it was a lot of pressure because this is when we had to make our point that Lovejoy is better than you think.
Boys varsity coach Logan Kelly said he was proud of how the boys ran despite going up against top ranked 6A opponents without their number two and three runners, senior Grant Gueller and junior Trevor Malik, because of injuries.
"Will Muirhead and Brady Laboret had a great day running some fast 5K times. Whit Bedell and Erik Day also had a very solid day on the course," Kelly said. "Overall we ran very well considering we did so without two of our top runners."
Top varsity runner Will Muirhead, who is on the preseason 5A first team all state, said he is excited about how their race will help them get ready for future meets.
"This race will help us build because now we know where we are fitness wise and can base workouts off of how fast we raced," Muirhead said.
Leave a Comment
About the Writer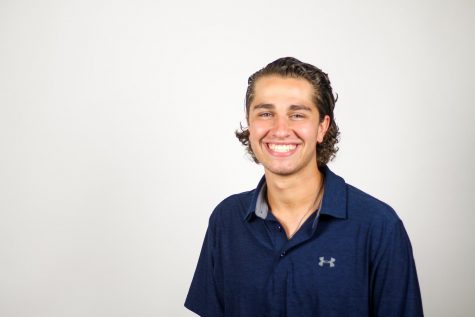 Matthew Piccirillo, Staff Writer
In hopes of bringing a lively personality to The Red Ledger, Matthew Piccirillo decided to join staff for his senior year. Filled with laughs and smiles...