Boys basketball looks to continue playoff run against rival Highland Park
Advancing to the second round for the first time since 2014, the boys basketball team (25-7) is set to face Highland Park (24-9) tonight at Lewisville High School at 7 p.m.
"We're primed and ready to go for this game," head coach Kyle Herrema said. "We haven't [won against Highland Park] in the last couple of years, but this is the game. Our kids are hungry."
The Leopards rallied to a 34-33 win last Tuesday versus Frisco High in what turned out to be their lowest scoring game all season.
"I knew it was going to be a low scoring game, but at this point in time, you don't care how it looks," Herrema said. "You just have to win and move on."
Senior Luke Ledebur hit a crucial free throw with 5.5 seconds left in the game to send the team to the second round.
"Since [Ledebur] has been a sophomore on varsity, he's always hit big free throws," Herrema said. "He's always a guy I want on the free throw line late, which is part of the reason we ran [the final play] for him."
Highland Park and Lovejoy have not met in a little over a year. In their last meeting on Feb. 10 of last year, the Scots won 61-43.
"Highland Park always has shooters," senior Kyle Olson said. "But that's really all they got. They aren't as athletic as the last team was. Last year's team went slow and really grinded it out. This year's team is just looking to get up and down the court quickly."
Highland Park senior Reilly Seebold averages 19.3 points per game and holds the record for the most three point makes in the state. Junior Prince Dorbah is a defensive end for the Scots football team and is currently fielding offers from multiple schools including Alabama, OU, and Ohio State.
"For us, it's understanding personnel," Herrema said. "[Seebold] has made over 120 threes this year, so we're going to have to be able to locate him. They also have [Dorbah] inside, who plays football. They're both really good."
Senior Luke Ledebur emphasized the importance of the Jungle's presence in tonight's game.
"The HP student section is always big, so we need [the Jungle] to match them and be louder," Ledebur said. "It's always a big momentum booster having a loud student section."
Leave a Comment
About the Writer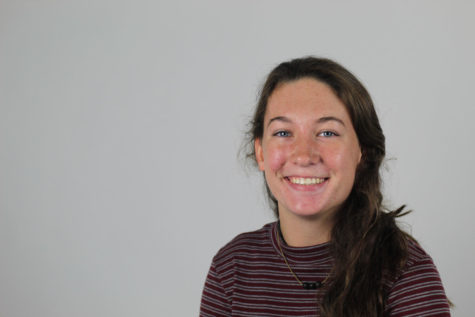 Alexis Russell, Staff Writer
Alexis Russell is a senior this year, and it is her second year on staff. She mostly writes about sports, including volleyball, basketball, and baseball....