Volleyball looks to defeat Liberty in playoffs for second consecutive year
The volleyball team (43-6, 10-0 in district) finds itself in a similar situation to last year, looking to stave off the Liberty Redhawks (31-9, 16-2) in the regional quarterfinals for the second year in a row. The rematch will take place tonight at Berkner High School at 7:30 p.m.
"Last year, I don't want to say they caught us off guard, but it wasn't one of our better matches," head coach Jason Nicholson said. "I'm not sure we respected them as much as we do now. Our heads are a lot more focused and we understand that this is a very good team. We know that if we don't come out and play, our A-game, we're going to be in trouble."
In the first round of postseason play, the Leopards faced a competitive Lebanon Trail team (23-10, 13-5) last Tuesday, but were able to hold out and get the win despite a strong start from the Trailblazers (25-23, 25-17, 25-19). This, in turn, allowed the team to advance to the area matchup versus Woodrow Wilson (22-12, 8-2) on Friday, where they swept the Wildcats (25-12, 25-13, 25-16).
"In round one, your nerves kind of get you a little bit," Nicholson said. "In high school, when you get to this point, you lose and you're done. I think that kind of gets in everybody's head a little bit and we saw some of that in round one. In round two, we kind of just realized we have to be ourselves and go out and compete, and so you saw a different result."
Nicholson said that the competitive first round match versus Lebanon Trail acted as a learning experience for the team.
"We knew they were an athletic team that could do some things if we allowed them to," Nicholson said. "And they did, but it was good for us. We learned that against a good team, even when we're not at our best, we have a chance if we just keep fighting."
After ending Liberty's season in five sets last year (25-23, 14-25, 24-26, 25-20, 15-12), the Leopards are anticipating a high-intensity game versus a determined Redhawk squad.
"I think both teams realize what's at stake," Nicholson said. "There is definitely nobody hiding anything in this one, we both know what the other team can bring. Hopefully, we have a little bit of a mental edge, winning last year. But it could also give them an edge too, a little bit of a revenge type factor. Hopefully, we can get an early start, get ourselves going, and end up on top."
Senior Madison Waters emphasized the importance of controlling extraneous factors going into tonight's game.
"How both teams come out in the first five points will for sure set the tone for the rest of the night," Waters said. "Both teams are skilled physically, so the way we are able to adjust and prepare mentally will be a huge part in how the night plays out. We know their tendencies and have been working hard the last few months, so we are very amped up for this match and just ready to be playing already."
Leave a Comment
About the Writer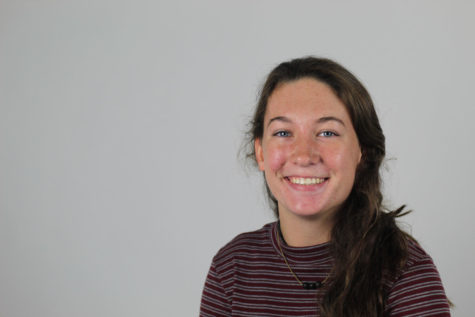 Alexis Russell, Staff Writer
Alexis Russell is a senior this year, and it is her second year on staff. She mostly writes about sports, including volleyball, basketball, and baseball....