Golf to travel to Abilene for Bill Wallace Memorial tournament
The golf team is scheduled to tee off in Abilene for the Bill Wallace Memorial tournament this Friday hoping to sink in a top place finish.
"This is one of the biggest tournaments we will play this year," coach Brent Moseley said. "There will be 26 teams from around the state competing, including many of the top teams from 4A, 5A, and 6A like Allen, Argyle, Grapevine, Amarillo, Lake Travis."
The Diamondback golf course will force the players to stay focused and perform to the best of their abilities.
"We are playing a course that requires you to hit your tee shots in the fairway," Moseley said. "There is very little room for error. There is very little rough, and outside the rough is very penalizing. We have added a focus this week to keeping the ball in the fairway. We have continued with our pursuit of improving our wedge play and putting."
Moseley has high expectations going into the season due to the upward trend in success over the years, even after losing several seniors.
"Lovejoy golf has grown so much," Moseley said. "Over the past four years, we have set new school records. This year will be no different. I expect this year we set a mark that will be very difficult to top in the future. If we play to our capabilities, I see no reason we can't finish in the top seven."
Senior Brian Wolfe said he also thinks highly of the team's ability to perform this upcoming weekend.
"We have a pretty good shot at winning the tournament," Wolfe said. "This year's team is probably the best I've ever seen out of my four years here."
The teams participating are scored on an individual as well as team effort. The top five boys and girls varsity scores will be added together and account for the team score.
With more than 26 teams from around the state competing, golfers have been putting in extensive hours in preparation in order to give them the best chance at winning the six-hour tournament.
"Every day after school we have a practice that ends around 5:30-6, but I tend to stay afterwards to get what I need to get done," sophomore Meghan Spencer said. "On the weekends I practice for at least two hours a day, and in the summer I would put in about 27 hours on the golf course a week."
Despite the substantial amount of work put in prior to completing, the course geography and staying consistent for the whole tournament may pose a threat to the golfers.
"Being consistent with my scores for the two-day tournament can be difficult," Wolfe said. "This course is a little more open so it may play better for me. It's kind of long so it might give me an advantage against the competition. [However], I know a lot of people might struggle because of the length of the course."
For the newer team members, the familiarity of the course may be a test to their skills as well as their mental game.
"I haven't played on this course before," Spencer said. "Water hazards, narrow fairways and trying to keep the ball in play could be challenges that I come across. Also if I see an intimidating hole that I've never played before it can mess with my confidence in my swing, making it hard to
Leave a Comment
About the Writer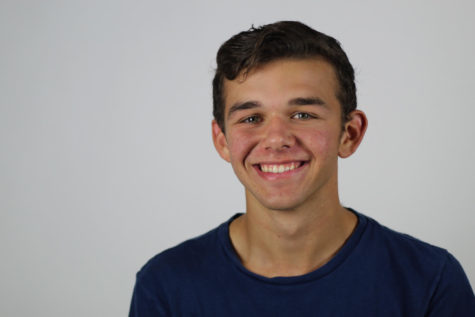 Haydn Spooner, Staff Writer
Haydn Spooner is a senior and first year staff writer for The Red Ledger. After living in and visiting several exotic places such as Argentina and Hawaii,...