Baseball hopes to stave off elimination against Texarkana
After successfully reviving its season by winning three straight games to snag a spot in the playoffs, the baseball team (18-14, 8-6 in district) finds itself in a 1-0 hole in the best-of-three Bi-District series versus the 19th ranked Texarkana Tigers (23-5, 10-3).
The Leopards will play game two in Texarkana on Friday at 7:00 p.m. A win there would force a third game to be held on Saturday at 1:00 p.m in Rockwall, but a loss, however, would cut their season short and send them home packing.
"You can really feel the atmosphere change [in the playoffs]," sophomore Matt Piccirillo said. "We all know each and every pitch is very important. Our mindset really has been to win each inning and focus on each pitch, and we know if we want to advance, each inning is critical throughout the series."
The team fell to Texarkana 8-2 Wednesday night, despite out-hitting the Tigers eight hits to three.
"We had a couple of miscues defensively which allowed them to score a number of runs that they shouldn't have," senior Luke Howell said. "We gave up too many walks, which allowed them to get runners on base and score without needing a lot of hits. We need to tighten up our defense and not walk as many people to prevent this [next game]."
The Leopards also struggled to convert hits to runs, leaving seven runners on base.
"We had a lot of hard hit balls last night right at people which was pretty unlucky," Howell said. "We didn't adjust to the speed of the pitcher, so when we finally started to rally, it was too late in the game. We need to fix these mistakes and have a strong offensive day on Friday so that we can keep our playoff run alive."
The Leopard pitching staff struggled in the series opener, going through four different pitchers throughout the span of the game. Head coach Jason Wilson is looking to juniors Jordan Yoder and Jake Terwilliger to take the reins on Friday to give the Leopards a chance to extend the series.
"Both are really good pitchers, they're both going to compete, keep the ball down and throw strikes," Wilson said. "When you get some runs early it kind of relaxes the pitcher's a little bit, and takes pressure off the defense. If you get a good, solid pitching performance, it loosens up the hitters. It's all connected. In all three phases on Wednesday, we just didn't play well. We just need to tighten it all up all the way around."
Wilson said that he understands the implications of a repeat of Wednesday's performance.
"Intensity is ramped up a little bit [in the playoffs]," Wilson said. "I think mistakes are more costly. We don't have to play a flawless game, but we have to really minimize the mistakes that we do make, because [Texarkana] will take advantage."
Leave a Comment
About the Writer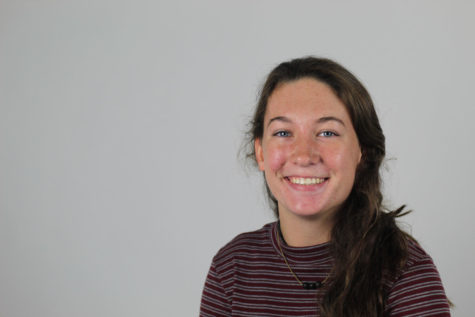 Alexis Russell, Staff Writer
Alexis Russell is a senior this year, and it is her second year on staff. She mostly writes about sports, including volleyball, basketball, and baseball....