Baseball aims to complete sweep of West Mesquite
With a split series last week versus Highland Park (2-1 in district), the baseball team looks to sustain its recent momentum after a 12-0 win versus West Mesquite (0-3 in district) on Tuesday to bring their district record to 3-1. But first, the team plays this Friday at 7:30 p.m. at home, as the Leopards look to close out the series versus the Wranglers.
"Our mindset [going into Friday] is to keep playing as hard as we can, even though we had a lot of success on Tuesday," senior Luke Howell said. "We have to play at our highest level regardless of who our competition is, good or bad."
With an overall record of 10-6 coming out of preseason play, the Leopards are looking to refine a few parts of their game as they begin their district season.
"I still think we need to improve quite a bit on offense and scoring runs," head coach Jason Wilson said. "We're getting better, but we can still improve in those areas. We took care of business against teams we should have and lost to some fairly good teams. We had a good mix of good and average teams, which helped us prepare for district."
However, the team did not have the district start they envisioned according to sophomore Matt Piccirillo.
"We were expecting to sweep Highland Park, but that really wasn't the case," Piccirillo said. "We definitely adjusted at the plate from being shut out in the first game. Highland Park came at us with a lot of off-speed pitches that really troubled us, but in the second game, we jumped at the fastballs we got and definitely hit against the off-speed a lot better."
After an 0-1 loss last Tuesday, the Leopards were able to adjust and beat the Scots 3-1 the following Friday.
"Both games, our pitchers were really good and dominating,"Wilson said. "But, we had a lot of opportunities on Tuesday to score runs, and we didn't come through when we needed."
The team continued the strong play into this week, scoring 12 runs while simultaneously shutting out West Mesquite with junior Jake Terwilliger on the mound through five innings. Terwilliger allowed no runs and one hit, striking out six batters in the process. Junior Luke Finn got the Leopards off to a good start at the plate with a two run home run to put the team up 3-0 in the second inning.
"We knew going into the game that they didn't have any pitchers that could overpower our hitters from the mound, so we really focused on sitting back on the ball and trying to drive it into the gaps," Piccirillo said. "Our defense was very good, as there were no errors versus a team that mostly kept the ball on the ground. Our offense really sparked in the middle innings, and once we got the lead, we pretty much just ran with it."
Wilson is confident in his team's ability to pull off the sweep.
"No slip-ups," Wilson said. "Play hard, play with energy, and do the little things right. Put the ball in play and play defense, and we should be ok [on Friday]."
Leave a Comment
About the Contributor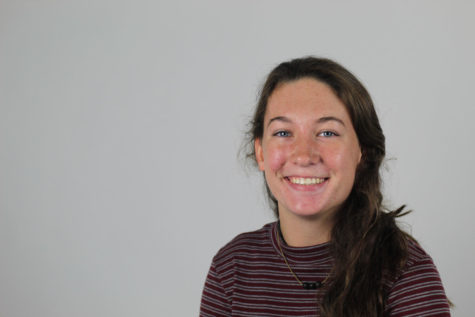 Alexis Russell, Staff Writer
Alexis Russell is a senior this year, and it is her second year on staff. She mostly writes about sports, including volleyball, basketball, and baseball....