Football to challenge Lone Star in second round of playoffs
Team seeks to continue six-game winning streak and advance in playoffs
After taking down the Sulphur Springs Wildcats in the first round of the 5A Region 2 Playoffs, the football team (6-5) will focus on its next task at hand in the playoffs, the Frisco Lone Star Rangers (10-1). The matchup will be held on the big stage of AT&T Stadium on Saturday at 8 p.m.
The Leopards suffered 35-3 defeat by the hands of Lone Star in Week 3 of this year, but junior running back Jahi Rainey said that the Leopard offense has made significant strides since it last matched up against Lone Star and that some of the offense's key players are now healthy.
"Our offense is completely different compared to when we played them earlier, not because it didn't work last time, but because we had many people out with injuries then, including myself, [starting quarterback] Carson [Collins], and [starting offensive lineman] Ben Mason," Rainey said.
The turning point of the Leopards' season occurred after the bye week, as many injured players, including Rainey, were able to recover from injuries and bolster the all-around depth of the team for the rest of the season.
Although health is not expected to be an issue for the Leopards heading into this matchup, there is still a big question mark looming over the opposition's backfield, as the injury status of Lone Star running back Kirby Bennett III is unknown.
Junior defensive back Chase Coronado said that the team respects Lone Star's offensive weapons and that the defense must be prepared to stop quarterback MJ Rivers, regardless of Bennett's status.
"We figured out that Kirby Bennett wasn't their only weapon, as their quarterback [Rivers] dominated," Coronado said of the Leopards' regular-season matchup against Lone Star. "With Kirby hurt, we are unsure if he is playing, but we are prepared to contain both of them and force them to pass."
In the Leopards' first-round matchup against Sulphur Springs, the team was led by a balanced offensive attack, as Rainey registered 187 yards on the ground while junior Carson Collins threw for 266 yards and three touchdowns. Two-way senior Bumper Pool also recorded two touchdowns on offense to go along with a key interception on defense that helped lead the Leopards to a 45-29 victory.
In Lone Star's first-round matchup, its offense struggled to put points on the board in the first half before it eventually found its groove in the second half en route to a 41-16 win against The Colony.
Because this Saturday's game will be held at AT&T Stadium, both teams will have the opportunity to embrace an even larger atmosphere.
"I think that being in that atmosphere will be awesome," Coronado said. "It will be a change for sure, but I think the fans and players will be pumped."
Leave a Comment
About the Writer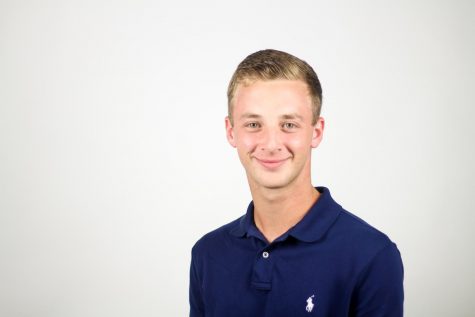 Benjamin Nopper, Section Editor
After joining staff and becoming an editor his sophomore year, Benjamin Nopper is enthusiastic to spend his senior year in the newsroom he considers...