More than just a channel
Students pour time and energy into creating YouTube videos
Senior Ryan Allen leaves school at 3:25, drives home in his Volkswagen Jetta, and prepares to go to work. The difference between his job compared to other student's jobs is that his equipment is a Canon 70D, Diva Ring Light Nova, and two soft box lights to the right and left of the camera. His job is to be a YouTuber.
"I originally loved just making movies for my parents and my family, and it was easier to be accessible for them if I uploaded online. My first video hit like a thousand views, and I was like, what the heck! I don't have a thousand family members," Allen said. "I kept getting random people's comments, and I was very confused."
YouTubers Brooklyn and Bailey McKnight are juniors who have been a part of the YouTube community for about eight years. Their rise to "Internet fame" began when they were hair models for their mother, Mindy McKnight, on her YouTube channel.
"We originally started YouTube because my mom started her channel, which is CuteGirlsHairstyles in 2009, and eventually the subscribers wanted to get to know what our personalities were like, so in 2013 we broke off from CuteGirlsHairstyles and [now we] do videos on that channel and on our own," Bailey said. "It all started with my mom and her hobby for doing hair and just posting videos."
Because of YouTube, Brooklyn and Bailey have traveled to exotic locations like Singapore and Iceland. After doing three advertisements for Covergirl, they were even sponsored to attend the Grammys.
"Going to the Grammys was definitely a new experience because we've never walked the red carpet before," Brooklyn said. "Because our dresses must've looked super nice or something, they accidentally put us in line with all the nominees for the Grammys, so we got to walk the nominee carpet which was way cool because we were not nominated, but we got the nominee experience."
Although Brooklyn and Bailey's YouTube channel has reached over three millions subscribers, they are not the only teenage YouTubers at Lovejoy. Junior Jessica Lucé began posting to YouTube four years ago because a friend "inspired" her.
"I have been making videos ever since I was little, but I never thought anything of it; it was just a fun thing to do," Lucé said. "Then, I met Ryan Allen, who's a YouTuber as well, and it seemed like a cool thing to do."
Allen and other YouTubers receive love and encouragement from strangers all around the world, and this may appear strange to some– including the YouTubers themselves.
"It's kind of weird [to have supporters from all over the world], but also very exciting and nice," Allen said. "It's really weird to know that other people are supporting me with things that I haven't been supported for before, because I'm an LGBT YouTuber, and for other people online to say that it was OK and something to be embraced was really different."
Although people see what is posted by these YouTubers, what they don't see is the work and time that goes into each and every video. It all starts with thinking of content to post online.
"We do a thing called tent-pole [for ideas]," Brooklyn said. "We try to plan around certain events, [but] for the most part, the rest of our ideas just come from random things you find in daily life and just whatever you feel like doing."
With the variety of video topics on these YouTubers' channels, they each have a favorite type of video to make. Although Brooklyn is "not a crafty person," she and her sister do favor a category.
"We love making expectation vs reality videos, so we'll do that for prom which is always fun because everybody relates to that and finds it funny," Brooklyn said. "I also really enjoy challenges because they always go well no matter what, because people love watching it, even if it does fail."
For Allen, the process of creating comedic skits is his favorite part of his job.
"My favorite thing is to write scripts and produce short films, so my skits are probably my favorite videos to make," Allen said. "They do take a long time, but the payoff is super worth it."
The process to even get a video onto YouTube can be stressful.
"A lot of people think that YouTube is just making a video in your room, and it's not," Brooklyn said. "There's a lot of stuff that goes on in the background with video processing, editing, having certain key words, getting a video publicity. On top of that you're doing brand deals, so you're dealing with lawyers and meetings. A lot of people think it's just a hobby, but in reality it's a full-time job."
Luce struggles with encouraging herself to convert ideas into videos to maintain new content for viewers.
"You have to be ready to make a video, and sometimes I'm not in it with all of my passion," Lucé said. "That's my problem lately because I'm so busy with school and other things that I never have time or energy or motivation to make videos. Motivation to just get out there and film something and coming up with ideas is probably the hardest part."
Although YouTubers do experience hardships that come with the job, the outcome is "worth it" to them.
"It's one of the best feelings in the world knowing that there are people out there that love what you do and what you put out as a person," Bailey said. "One of the craziest things is when we travel to foreign places like Iceland or Dubai and you've never been there before, and there are people who know you, and it's really humbling to see all your work pay off. It's just numbers when you're on the computer, but it's a real life thing when you see the people and get to meet them."
Leave a Comment
About the Writer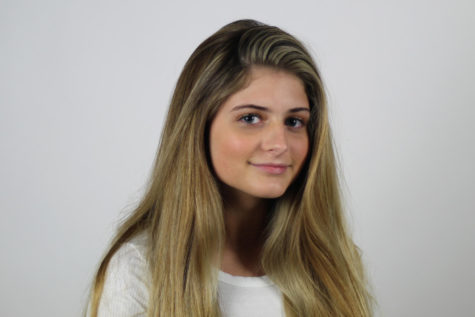 Hannah D'Iorio, Staff Writer
Junior Hannah D'Iorio is ecstatic about her fifth year in journalism. People who knew her in the previous years would probably say that she often sees...