Cross country to enter state meet with high expectations
After countless hours running, sweating, and powering through pain, the cross country teams will run their final races on Saturday in Round Rock at the 5A state meet. The boys team will be running together in the meet, qualifying by earning first place at regionals, and the girls team will be sending sophomore Carson Hockersmith, as she qualified individually.
The boy's team was ranked number one in the state for 5A in the preseason and currently hold that same rank on Texas Milesplit. The Leopards have yet to fall to a 5A team this season in all of their meets, along with their dominating performance at district and regionals, winning both. For senior captains Grant Tiff and Nathan Hartter, this will be a special race.
"This will be the first time I will ever actually get to compete at the state meet so there is a little excitement and a few nerves that will always come with running on the highest stage," senior captain Nathan Hartter said. "However, having run for [cross country head coach] Greg [Christensen] for six years, I believe I have learned how to compose myself on race day and am extremely excited to represent my teammates and coaches one last time"
On Wednesday, senior Grant Tiff signed with the Stephen F. Austin University where he will be running in the fall.
"I chose Stephen F. Austin for multiple reasons, but on the cross country side of things I felt I really fit in with the team and really liked the coach," Tiff said.
The main teams to look out for going into the state meet for the boys team, according to Texas Milesplit rankings, will be Cedar Park, Donna North, Grapevine, College Station, and Frisco Wakeland who won the state meet last season, beating Lovejoy by just a couple points.
Hockersmith will be running the state meet for the first time as last year she missed qualification by just a few spots. She got 14th place at regionals this year with a 19:49 time.
"For state this year there is going to be a lot of really tough competition so it's going to be important for me to get out fast and be competitive," Hockersmith said. "My goal is to finish in the top 20."
The boys hope to capitalize off of their regional championship two weeks ago.
"The team performed great at regionals," junior captain Bradley Davis said."We had four all-region runners in the top 10 and came out with a score under 50 points. That said, I feel we have our best to come at the state meet."
Top times for the boy's team included Tiff, coming in fourth at 16:16, freshman Brady Laboret, finishing fifth at 16:19, Davis at seventh, 16:23, sophomore Brett Pedersen at 10th with a time of 16:24, and junior captain Ryan Brands, finishing 16th at 16:38.
The girls placed sixth at regionals. Behind Hockersmith, the team's top times went to junior Emily Gueller at 29th with a time of 20:10, freshman Sofia Estes at 31st overall finishing with a time of 20:48, and sophomore Avery Silliman at 50th overall with a time of 21:18.
Leave a Comment
About the Writer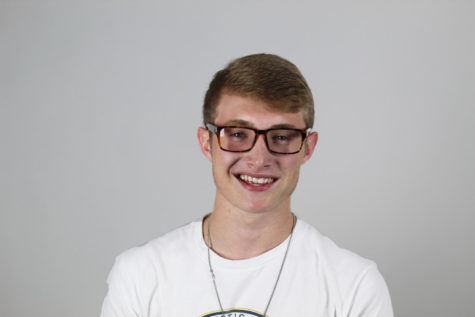 Joe Vastano, Staff Writer
Joe Vastano is your average Joe. He is a senior who really likes sports, fishing, and running. Texas A&M is his favorite college, so he cheers for...