Family rivalry
Two brothers find themselves on opposite ends of the political spectrum
Although they have grown up under the same roof, brothers Harrison and Grant Durow have developed opposing political opinions over the years.
The brothers both attributed the shape of their political ideologies to influences like friends, family, teammates, books and organizations to which they belong.
"I think that [Harrison is] strongly influenced by my parents. He's very close to my father, and he's very republican," junior Grant Durow said. "[Harrison] has a lot of friends too that are very republican whereas most of my friends tend to be more liberal. I have a lot of friends who are women too and a lot of friends that are also minority groups, and it's really important that I defend them and help support them."
Freshman Harrison Durow considers himself a conservative, saying that he has "just more traditional, old school views," while his brother, Grant, identifies as a liberal democrat after stating that he "really enjoy[s] the progressive values which promote the working class people by increasing taxes on the rich."
"Well I know growing up I loved reading a lot of books by a lot of female writers, LGBT writers, African-American writers, and they tend to have obviously more liberal views," Grant said. "I really agreed with a lot of what they said about equal rights for all and equal pay and all these things that really contribute to equality."
Harrison is a member of the Young America's Foundation, or YAF. In contrast, Grant is the founder of the Young Democrats of America Club. Although they associate with opposite political parties, Grant says that while he and Harrison "disagree on a few things," they "really respect each others opinions a lot."
"I would probably say [our political opinions differ the most] on the role of the government and economics because he really thinks that the government should be really off hands," Grant said. "I think it should intervene to help minorities and and poor people a lot, and he thinks it shouldn't do that."
Harrison says his political views have developed through his church, friends and surroundings, as well as overhearing his older brother mention the subject.
"It's just that my brother [Grant] started debating about this with my dad," Harrison said. "I started reading more and listening more to what's going on."
The current election has sparked interest in both Harrison and Grant. Harrison says he not a big fan of either candidate, "but it's just you gotta pick one of them." Grant, on the other hand, is very clear cut in who he supports.
"I personally prefer Hillary Clinton much more over Donald Trump because I think she's far more experienced," Grant said. "Although she does have some questionable things in her past, I don't like [Donald Trump's] hateful rhetoric at all."
John Gore, AP World History and AP U.S. History teacher and sponsor for the Young America's Foundation, is "glad that kids are interested in what's going on the world."
"When I was 15, 16, 17 years old, we didn't even talk politics," Gore said. "I'm impressed these kids even care about politics."
Even if opinions in his own house conflict, Harrison said "it's perfectly fine."
"I mean, that's why there's the two parties," Harrison said. "You're allowed to have your own opinion, and I have no problem with that."
About the Writer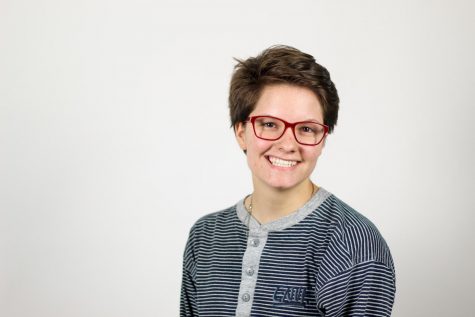 Kelsey Carroll, Section Editor
Senior Kelsey Carroll has never owned a dog or a cat, but she's the proud caretaker of two mini cacti living their life on her windowsill, and she thinks...