'Remembering the sacrifices'
Freshman Justin Maroney shares on his World War II memorabilia and reenactments
The trees rustled around him as he stomped among the leaves, treading into the woods.
Freshman Justin Maroney can vividly recall the time he knew World War II would become his passion.
"My friend's father went out [with us] and we were just goofing around in the woods camping," Maroney said. "He gave me an old field jacket from the [World War II] time period to wear, and he let me keep it."
Maroney said he thought the jacket was cool and it sparked his interest. Though he's outgrown the original jacket over the years, Maroney has kept a World War II artifacts collection that is a compilation of memorabilia from garage sales, flea markets, and online purchases. Aside from all the traditional components of a World War II uniform, he has managed to attain a standardized rifle from the time period from almost every country in the war, along with helmets, jackets and cartridge belts among other things. About 50 percent of the collection is genuine, although some items, such as those made of leather, can almost only be found as replicas.
Maroney's favorite collected item is something he wasn't expecting to find.
"I think the most interesting one I have is I bought an old envelope just for the postage stamp that was on the cover," Maroney said. "I opened it up and there was actually a letter a guy wrote to his wife letting her know they just won the war. That one is really neat. Herman J. Schneider, I think his name was."
Although Maroney is not old enough to participate in most World War II reenactments, he plans to be a part of his first major reenactment. known as "World War II Weekend," this November around Thanksgiving, where he plans to portray a soldier with the rank of private.
"[I collect] mostly for historical remembrance," Maroney said. "The eventual goal is to reenact a little bit more, and remember the sacrifices and try to relate to what those people went through."
Maroney has strong connections to the war, including two grandfathers in the Navy at the time, and a great-grandfather who landed in France on D-Day after "going into the service for somebody else," Maroney said.
Maroney is also a part of the school's Academic Decathlon team, a 10-part,  knowledge-based contest, which is World War II-themed this year, joking that it will "be an interesting way to put some of the otherwise not entirely usable knowledge I've collected to good use." Justin will be competing along with freshman Joe Harris.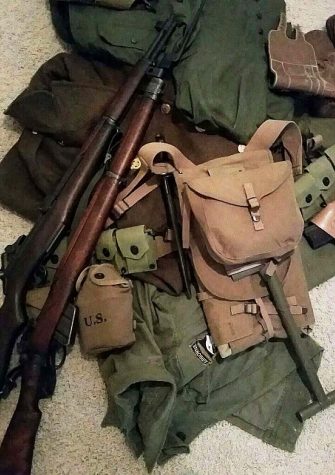 "[Justin] read a lot of books," Harris said. "He just knows a lot, and that's really impressive."
Before he began practicing for the Academic Decathlon, Maroney completed an independent study on World War II during his eighth grade year. The 150-slide presentation included events of the war, and "specific impacts of those events that our society still feels today, like the element of radar, television, and FM radio," Maroney said. The project gave Maroney a new perspective on the war, saying that "it gives you a lot better feel of the individual aspect rather than the 'high of mentality' of the war."
"You can read about troop movements all you want, but then you read the story of an individual German soldier who's at the front line," Maroney said. "It gives you a much better feel."
By reading articles and first-hand accounts, Maroney now "knows about WWII at a very deep level," said science teacher Pam Simmons-Brooks, who also oversees the independent studies courses.
"He's very focused because he has such a high interest in WWII," said Brooks. "I guarantee you, if you ask him about any person related to WWII, any battle, [he will know the answer]."
Even after he finishes completes the Academic Decathlon and his high school journey, Maroney hopes to be able to share his knowledge with others, potentially in a career as a historian.
"I'd love to curate a museum or something along those lines," Maroney said. "There's not a whole lot of a future in [World War II knowledge], but I think it'd still be a really fun thing to do maybe part-time."
Leave a Comment
About the Contributor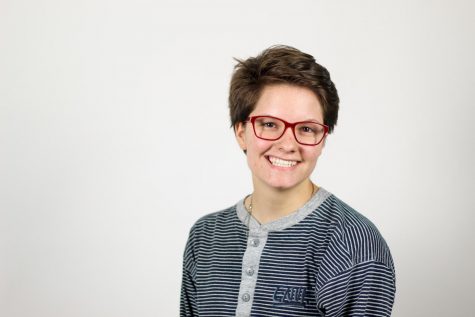 Kelsey Carroll, Section Editor
Senior Kelsey Carroll has never owned a dog or a cat, but she's the proud caretaker of two mini cacti living their life on her windowsill, and she thinks...