A new sense of direction
Student finds interest in circus training after troubles with vertigo
Heart pounding.
Mind racing.
Body pulsing.
The tightrope is stretched far from one side to the other. The silks are perfectly polished and soft. The acrobatic obstacles are in place.
This is the circus, and sophomore Sophia Heussner is part of the show.
Sophia's journey to the circus began when she was diagnosed with vertigo when she was 10, which she described as not being able to feel where her body is in the air. The disease first appeared when she caught a virus in her inner ear. Sophia's family couldn't figure out what the problem was, and since it wasn't affecting her gymnastics at the time, they didn't think much of it at all. At first their concerns were turned toward problems with blood pressure, but quickly they found out that it was, indeed, an issue with the inner balance of her body. Sophia's vertigo left her unable to continue in her gymnastics training, which she had been participating in for 10 years.
"[Vertigo] did not really impact her ability to stay in gymnastics until she got to level 8 and 9 for trampoline and double mini," Sophia's mom, Nicki Huessner, said. "Because of the vertigo she has some trouble feeling herself in space.The tricks that they do at that level become unsafe if you never really know where you are in the air."
Though Sophia struggled to accept that she couldn't continue with gymnastics, said she kept a positive mindset. Eventually, she stumbled upon the Lone Star Circus School,  while browsing the Internet, which offers acrobatics, contortion, flipping, flying, and more.
"I was looking for something to do and that kind of just popped up in my browser, and I was like, 'Oh look, that looks interesting,'" Sophia said.
Jumping at the idea of having something to do and feeling eager to get back to being in the air, she went for it.
"At that point there were things in my life I had moved my focus towards other than gymnastics," Sophia said. "I didn't know if it's what I really wanted to do, but I'm very open to new things and different things, so I didn't have a problem with going to it at all."
Though Sophia had many goals going into the circus school, her vertigo did not make it easy to accomplish the skills she had hoped to achieve.
"I can only spin in a certain direction or else it completely throws off my sense of balance, so anything that involved rotating or spinning a certain direction I couldn't do," Sophia said. "It was quite a large obstacle to figure out how to work around and to still be able to do the stuff with the vertigo without setting it off. I really just wanted to learn how to look pretty and be able to do stuff and not fall off the things I was doing."
Going into this circus training program, Nicki said she was unsure what to expect with this unusual experience for her daughter.
"It is sometimes difficult to transition from a competitive gymnastics team to a setting that is entirely recreational," Nicki said. "Most of my initial concerns were that she would get bored."
Sophia described her experience as far from boring. One of her favorite things about the circus training was the thrill of being in the air.
"I love heights, and a lot of the apparatuses that I did were silks [two long pieces of fabric that come down from the ceiling] and lyra and tightrope, and those are all in the air," Sophia said.
Sophia's mom said one of the best things about the circus was the variety of it all.
"If you don't like one thing there are always six more options," Nicki said.
With much of her time taken up now by marching band, Sophia is still going to circus training once a week, as well one private non-competitive session per week with her gymnastics coach "to keep in shape." She added that the most surprising part of her experience with circus training is that "there were so little gymnasts doing it," as she found it was really fun transition from her gymnastic training.
"It's definitely opened my eyes to things to things that are generally considered more abstract," Sophia said. "Because if I was on the other side and I had heard that someone was doing circus, I would've thought, 'Oh, what a strange and weird thing that is.' And now I feel that's stuff I'm more open to doing and trying and I don't think it's as weird."
About the Writer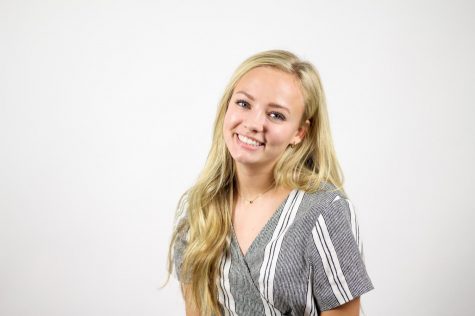 Lulu Butler, Section Editor
Continuing into her fourth year on staff, senior Lulu Butler serves as TRL's Managing and A+E Editor, and she is eager to start another amazing year...