A goodbye for Goodrich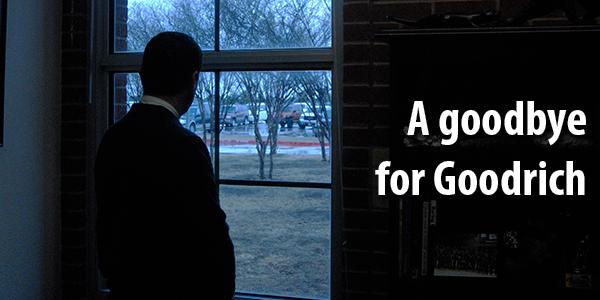 He's been with the district from the beginning. He's been principal of the short-lived Lovejoy Middle School, the now-intermediate but formerly known Sloan Creek Middle School, and is currently principal of the high school. His son Chris has grown up in the district since seventh-grade. He is a key branch of the district's roots, but after 22 years in Texas, he is headed for the mountains as Principal Gavan Goodrich has announced his resignation and will be moving to Colorado to accept a high school principal position at Ralston Valley High School in the Jeffco School District.

"My wife and I, we came from the west to Texas to start my education career, and it's been really great," Goodrich said. "But right now we're kind of looking at it like this encore part of [my] career. When you get to be my age, you start thinking 'Well where do [I] want to finish?' and we'd really like to finish there. Now that we aren't really tied to being at home with the boys, we can kind of go a different place, so that's what we're going to do."

[sidebar title="A reign of success" align="left"]
National rank: #315
Texas rank: 39th of 1,445 public high schools
College readiness index: 53.4
76% AP participation rate
Voted Gold medal by US News
The State of Texas 2012-13 School Report Card from TEA:
2012-2013: LHS scored 20 percent higher than the average state score in all STAAR subjects (state-77 percent, LHS-97 percent)
Class of 2012: 98.4 percent of students graduated, compared to 87.7 percent for the state
SAT/ACT results: average score 2012: 1650 compared to 1422 for the state (228 points higher)
School has consistently achieved "Exemplary" status
2010 and 2011: won the Texas UIL Lone Star Cup
[/sidebar]

Goodrich worked in advertising in California before moving to Texas to start his career in  education. After visiting New Mexico each summer with the cross country team and traveling to Southern California over winter break for the Rose Bowl, Goodrich started to piece the signs together and found the mountains calling his name.

"We had to drive through the mountains to get [to California], and when we were there, you know, it just makes you think," Goodrich said. "And that's a big part of it. We love the outdoors and we don't get that much here. We're not afraid of packing up and moving to something that's new and kind of adventurous."

The decision came about quickly. Goodrich went to visit the Denver-area high school over spring break and both parties found what they were looking for.

"I talked to students who were in the process of the interview, and I did tours with them, and they asked me 'What would you do if you came here?' and I said well I wouldn't really do anything initially, but eventually things would be changed," Goodrich said. "But we [Lovejoy] do some innovative things and they don't do some of the innovative things we do, but there might be some things they're doing that we're not doing. I'm about trying to make things better, and implementing interesting things. I'm not about the status quo, I really want the school to be the best it can be."

Goodrich announced his resignation to faculty and staff for the first time at Wednesday morning's staff meeting, and sent out an email to the parents and guardians of high school students shortly afterwards. As of yet there is no word or progress on the search for another candidate, but Goodrich expects the search to take about two months from start to finish.

"This just happened, so I know Mr. Moore and the school board will do a thorough search both inside and outside to find the best candidate, like they always do," Goodrich said.

Students and teachers alike are anxious to find out who Goodrich's replacement will be. However, the faculty and staff all share Goodrich's mixed feelings of excitement and nostalgia at the impending arrival of this new chapter.

"I guess I'm still processing it right now," student council adviser Tami Parker said. "He's been a supporter of the teachers, and it also makes things more anxious because you wonder who's going to take his place. So that adds a little anxiety to the spring, so that's exciting. But I'm happy for him."

"I feel like I am excited for him for the opportunity to do something he wants to do and to live where he wants," English teacher Roxann Ward said. "That's an exciting step in life, to try something new. I am very sad to be losing him, because I've worked for him for several years and I appreciate and admire him as a principal, and I hate to think about next year, him not being here, so I have really mixed emotions. I'm happy for him and sad for me. Our loss, his gain."

Having been with the school since its nascency, Goodrich was able to influence the direction of the school and even create one of its distinguishing features, The Graduate Profile.

"To me, that is an ideal graduate," Goodrich said. "I think I've been able to have an influence on getting that into the culture and hopefully it will continue to be part of the culture here at Lovejoy. It's about the development of young men and women to be the best they can be, and it's about them being good people, hard working, open to the challenges of learning new and different things, and just being the best they can be. I just believe in this idea of the whole of a student, not just the academic part, or the athletic part, but the whole."

[sidebar title="State titles during Goodrich's time as principal" align="right"]
Volleyball 2010, 2011(3A), 2012(4A)
Boys cross country 2012(3A)
Girls cross country 2010, 2011(3A)
Varsity Women's Choir 2013
Theatre Department's One Act Play, UIL State for Sweet Nothings in My Ear 2013
Varsity Lacrosse won the Division III State Championship in 2013
[/sidebar]
Very seldom does one get the chance to take part in the creation of new schools and this is something Goodrich cherishes and acknowledges as one of the fondest memories of his time here.
"I think [my favorite part of my time here] is the opportunity to create a school from nothing into something that is one of the best high schools in the country," Goodrich said. "That's really because of the students we have, the teachers that we have, and a community that's supportive of education. They make it all work together. It's not perfect, there are places for us to improve, but if you go to other schools, very few schools have what we have. So I was really lucky to have had the chance to do that."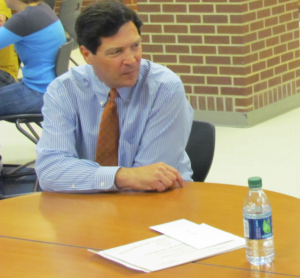 During Goodrich's time as principal, the high school has had numerous successes, including an increased graduation rate, an increased AP participation rate, a consistent achievement of "Exemplary" status, several state championships, and more.
"I knew we would have success [when the high school started] but I didn't think it would be as fast as it happened," Goodrich said. "To have so much success academically, in our athletic programs, in our fine arts programs, in our publications, I mean every week I can talk about how great things are. And it really comes down to the fact that we have kids and students who care about what they do and they give it their all and they have some talent and they work hard. If you put all that together you're gonna get good results. And I think that's the hallmark of Lovejoy."
Goodrich will finish out the semester here at the high school and will continue to work with the district until he feels his responsibilities are complete.
"It's not over until it's over," Goodrich said. "I'll keep working hard until the end of the school year, and will look forward to it, and cherish every day."
Aside from the breathtaking view of snowcapped mountains in front of the school, Ralston Valley High School boasts many similarities to Lovejoy. They're similar in reputation, with high-performance in athletics, fine arts, and academics. They're similar in establishment, with Lovejoy in its eighth year and Ralston Valley in its ninth. They're similar in diversity, with Lovejoy having an 82.6 percent white population and Ralston Valley having 84 percent. They're even similar in livestock; Ralston Valley has horses across the street just the way Lovejoy has horses on each side.
So, although he'll be 809 miles away, he might just feel at home.
Leave a Comment
About the Contributor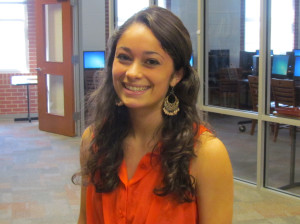 Liz Schasel, Editor-in-chief
Liz Schasel has yet to introduce herself in a staff biography without a joke about being vertically-challenged, and wouldn't feel comfortable starting...