Junior Emersyn Runions has been fencing for seven years and a girl scout for nine years. In May of 2022, she began to combine her passion for the two by creating a camp called  "Fencing for All." Recently, she was featured on USA Fencing's national podcast. 
"Starting in May 2022 I began planning, developing, fundraising and eventually holding a 6 week adapted fencing camp for children with Cerebral Palsy in pursuit of my Girl Scout Gold Award," Runions said. "My goal is to bring fencing to a broader population that includes children of all physical abilities in the community and eventually introduce it to the Special Olympics." 
The Gold Award is a service project designed to teach scouts how to enact change in their communities. The project requires 80 plus hours of service. As a result, it is the highest achievement a Girl Scout can earn. 
"I have been a Girl Scout for 9 years now. It has provided me with amazing opportunities, challenged me to get outside my comfort zone and provided me with a community unlike any other," Runions said. 
The project required extensive research for it to be successful. In the beginning she reached out to many organizations but ended up choosing 1 CP Sports + which is run by James Arnold, a physical therapist who runs adapted sports camps. Apart from research, Runions also spent time planning and fundraising. 
"In order to have enough funds for the camp equipment, I targeted and eventually raised over $3,000," Runions said. "I had a bit of an interesting approach to fundraising. I have a bearded dragon and he eats Dubia roaches. Dubia roaches also sell for a lot of money… So I was able to put up ads on Facebook Marketplace and Nextdoor so that people with reptiles near me would be able to buy. I also resold items on Facebook Marketplace. I was also able to collect donations from friends and family. Once I had fundraised, I was also able to reach out to Blue Gauntlet about equipment, and they were able to help me get a discounted price."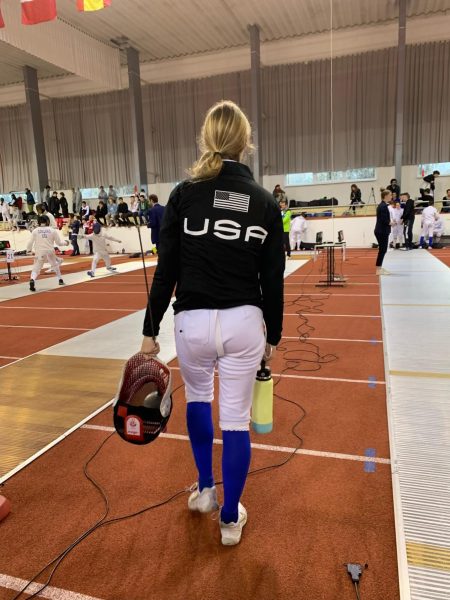 Runions is very well known among the fencing community. She hopes that through the podcast she is able to inspire fencers all over the world to create their own camps within their communities.  
"When Emersyn is at tournaments, she is always very sweet and friendly," junior and fellow fencer Victoria Burchett said. "After a round she comes up and gives you a hug when that's allowed (not during Covid), and she will smile and wave at you when she sees you. She's very inclusive of everyone and super awesome." 
The project brought a lot of joy to Runions. She was even able to bring in two very special national parafencers to the last practice. Her favorite part was seeing the new skills the students acquired over the six weeks. 
"This project holds a really special place in my heart," Runions said. "One of my closest friends has cerebral palsy, and when we were younger she participated in the Miracle League. I remember seeing how excited she was each week as she told me about her soccer game, and I knew I wanted to bring this same kind of joy to other kids. Once I decided to base my project around fencing, I knew it was the perfect mix."