Track dominates districts
Last week, the track and field team hosted the District Championship meet. The boys and girls team both placed second overall with 193 and 186 points respectively. The team collectively advanced 42 athletes to Area.
"There were too many outstanding performances to name," head girls coach Carly Littlefield said. "We had a handful of athletes break their own personal and school records at Districts."
On the distance side, both the girls and boys swept the competition in the 3200 meter and 1600 meter race. In the 3200, senior Amy Morefield finished in first, junior Sara Morefield came in second, and freshman Camryn Benson in third. The girls ran 11:33.64, 11:33.97, and 11:34.25 respectively. In the 1600, junior Kailey Littlefield placed first, Sara came in second, and Benson in third running 5:21.64, 5:21.91, and 5:22.14 respectively. In the boys 3200, sophomore William Carlson finished first, junior Nick Yarad placed third, and sophomore Caden Gary in fourth with times of 9:22.74, 9:28.87, and 9:33.59 respectively. In the 1600, Gary finished first, Yarad came in second, and Carlson in third. The boys ran 4:19.57, 4:20.19, and 4:20.36 respectively.
"Our distance team has been dominating all season long," senior Bella Landrum said. "We have all been contributing our extra time and effort to be the best we can be. And our extra efforts and dedication are shown in our meet performance."
The girls advanced five athletes in the mid distance events. In the 800 meter race, the girls swept the competition. Kailey placed first running a 2:15.30, Amy came in second with a 2:19.22, and Campbell Lester in third with a time of 2:24.07. Kailey also won the 400 meter race running a 56.14 and sophomore Mia Reaugh finished in third with a 58.25.
"We had a lot of athletes in a variety of different events which gives us a good chance to win as a team at Area," Kailey said. "I know that as long as my team and I compete our best we will see good outcomes at Area."
Senior Leila Ngapout broke her own school record in the 100 meter sprint winning the race with a time of 11.64. Junior Lauren Dolberry placed second in the 300 hurdles with a time of 45.39 and junior Taylor Person close behind in fourth running a 48.88.
"Our sprints and relays killed it this week," Landrum said. "All of the girls and boys relays advanced to Regionals. We constantly are working on perfecting our relays so it's really nice to see our hard work pay off."
In the field, the girls had five athletes qualify for Area. Junior Caroline Dolberry placed fourth in long jump with a distance of 17'3.25" feet. In pole vault, senior Sara Salsgiver finished in second and Benson placed fourth both clearing a height of 10'6". Junior Jelai Johnson placed second in shot put with a throw of 34'10" and senior Ryann Daugherty finished fourth in Discus with a 99'4" feet throw.
"We are stacked in field events both on the girls and boys side," Carly said. "With as many field athletes that advanced it gives us a better chance to rack up points as a team."
On the boys side in the field, junior Colston Adamson claimed the district championship in high jump, triple jump, and long jump with distances of 6'6", 46'1", and 24'5". Adamson broke the school record in long jump. Junior Daylan Mccutchan placed second in long jump with a distance of 22 '0 ". Senior Lance Stubbs placed second in pole vault clearing 12'6". In shot put, senior West Wilson placed second, junior Josh Gapp came in third, and junior Mason Dragoo in fourth with throws of 51'0", 47'5", and 44'9" respectively. In Discus, Wilson placed first with a distance of 163'10" and junior Nick Perez came in second with a throw of 150'11".
"Collectively as a team, we have all improved throughout the season," Kailey said. "We've seen growth and development in every athlete which has contributed to our great success so far this season."
All of these athletes will be competing at the Area meet this Thursday April 20. The meet will be held in Princeton. The athletes that place in the top three will advance to Regionals.
"We continue to work speed, strength, and toughness in preparation for Area," Carly said. "Our team is united and this is one of their great strengths. They understand the team aspect of Track and Field and I am excited to see how they pull together at another highly competitive meet."
Leave a Comment
About the Writer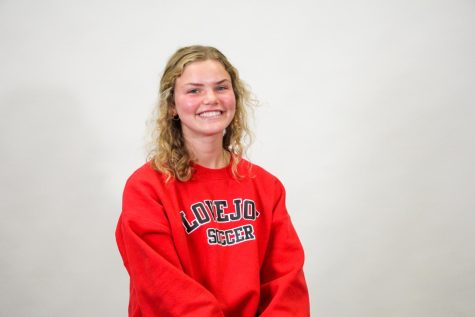 Margo Friloux, Section Editor
Entering her final year on staff, Margo is excited to work with her Co-Sports Editor and Leopard Life alum, Will Doig. This year is bittersweet to Friloux....