Featured Athlete: Charlotte Wilson
Senior volleyball player Charlotte Wilson is the newest commit from the volleyball team. Wilson be attending Southern Utah University in the fall.
Pre-game: 
Pre-game meal: Chick-Fil-A and a Bang
Favorite music style: Country
Go-to Swig order: Save Me Jade 
Dream vacation destination: Hawaii or Germany
Post-game:

 
The Red Ledger: What was the recruiting process like for you?
Charlotte Wilson: The recruiting process was really stressful for me. I figured out that I wanted to play volleyball in college super late. Not only were a lot of schools already finished with their rosters for my class, but I was also super picky on what schools I talked to. I knew that I wasn't just going to go to any school just to play volleyball. I wanted to make sure that I found somewhere that had a great community and some place where I could see myself for the next four years.
TRL: What was your favorite part of playing high school volleyball? Why?
CW: I loved high school volleyball so much. Being a part of the Lovejoy volleyball program was such an honor and I couldn't be more grateful for everything I was taught the past 6 years being a part of it. Coach Puckett was such an amazing coach and has amazing qualities that I looked for in all the other coaches during my recruiting process. All of the girls on the team are so supportive, and we all pushed each other this season to be the best we could be. Lovejoy Volleyball is like my second family.
TRL: What made you choose Southern Utah? Why?
CW: I always knew that I wanted to go to school in Utah, so when I had the opportunity to start talking with the coaches from SUU I was so pumped. After talking with them for a little while, I was able to go on a visit to Southern Utah, and I absolutely fell in love with everything there. I love the coaches, the people on the team, the campus, the city, and so much more. I knew that I needed to attend SUU the moment I stepped foot in Cedar City. Finding someplace where I not only loved the volleyball program, but also the community was a major box on my list that needed to be checked off, and I am so happy that SUU is the perfect place for me.
TRL: If you could play any other sport besides volleyball what would it be? Why?
CW: If I could play any other sport besides volleyball I would probably have to say tennis. I know not a lot of people probably say that, but I think tennis is so fun. My older brother also played tennis for a little while when I was younger and I always thought he was so cool going to all of his tennis lessons.
TRL: What are your goals for your college volleyball career? Why?
CW: My biggest goal for my college volleyball career is to earn playing time. I can't wait to be trained by different coaches and to see how their coaching and advice can help me grow into a better athlete. I'm also super excited to be playing in the WAC, and so pumped to be able to see Hannah Gonzalez across the net.
TRL: Who motivates you to become the best player you can be? Why?
CW: The people around me motivate me the most. Being on varsity last year, and being around such amazing athletes pushed me so hard. I knew that I had to work even harder to improve, so I could push those above me. I also love to see progress. Seeing how much I have improved over the years motivates me to continue to work even harder. 
TRL: What would you say to someone who wants to play college volleyball? Why?
CW: I would say to anyone who wants to play volleyball in college to be patient. In the middle of my recruiting process I was getting really tired of the whole thing. I kept telling myself that I was just going to commit to this one school just because it was close to home. I'm so grateful that I had an amazing support system throughout my whole process, and that they were able to talk me out of making such a huge decision because I wanted the process to be over.
Leave a Comment
About the Writer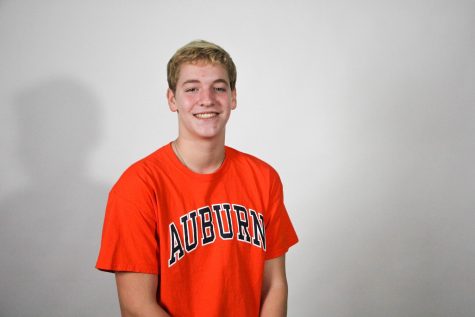 Will Doig, Section Editor
Entering his farewell year, senior Will Doig is excited about becoming a sports editor. Outside of the newsroom, you can find Doig watching any latest...