Boys basketball takes third place in tournament
As basketball season is ramping up, the boys' team competed in Forney's Winter Classic tournament this weekend and went 2-2 contributing to their now 10-3 record. 
"We had a lot of bright moments this weekend and some learning moments as well," head coach Kyle Herrema said. "We struggled against Desoto in the first game but bounced back in the next two games against Frisco and Tyler Legacy. In the finale against Forney, we struggled with turnovers in the first half against a very talented team but came back and played with a lot of heart in the second half but came up short."
The team faced the DeSoto Eagles, who are ranked 11 in the 6A division, losing 51-22. They competed against Forney, ranked number eight in 5A, and lost 56-47. In the Forney game, seniors Karson Templin and Parker Patel lead the team with 16 and 11 points respectively.
"The competition this week was very impressive," senior Jackson Wood said. "This was a deep tournament with Desoto coming into the tournament in the Top ten of 6A and Forney might be the most talented team we've faced this year. And we executed well in the second half against a well-disciplined and talented Forney team."
The boys defeated Frisco, 59-22, and Tyler Legacy 56-42. Against Frisco, Templin lead the team with 18 points and Patel was close behind with 12 points. Templin was the leading scorer with 22 points against Tyler Legacy. Templin was awarded the All-tournament team after his performance this weekend. 
"Even after not playing our best against DeSoto, we were able to play well against Frisco and Tyler Legacy," Patel said. "We had good offensive execution, but we need to focus on consistency on both sides of the court."
Entering the tournament, the team held a record of 8-1 their only loss being to Sachse. The team was also on a four-game winning streak as they took first place in Jesuit's Knights of Columbus tournament. 
"Throughout this season we've been playing really good," "We've played some really talented teams and we've been able to execute against them. We won a huge re-match against Sachse and beat Plano, who is very skilled, by one. Overall, we have had a great start to our season."
The team lost four of its starters last year, two of whom went on to play basketball in college. This year's group consists of seven seniors, four juniors, and one sophomore. 
"The team has improved a lot from our returning varsity players as we didn't have as big of roles in the team last year," "Adjusting to these new roles where we're leading the team hasn't been an issue for us and we have good depth in our underclassmen that have played big roles this season."
The boys will rematch against Allen this Friday. They begin their district play on Dec. 20 where they will play 12 games that will determine their place in districts and matchups for playoffs.
"My goal for this season is for us to play to our potential," Herrema said. "If we strive to be the best that we can be, we will have a phenomenal year in terms of wins and losses. Beyond that, I want this to be a tight group of players that root for each other each night."
Leave a Comment
About the Writer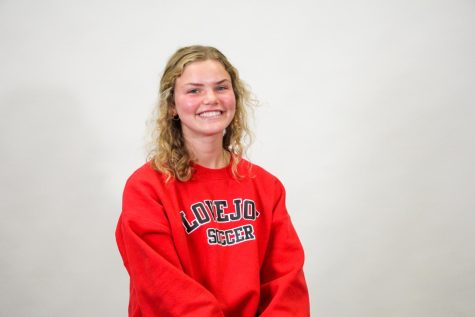 Margo Friloux, Section Editor
Entering her final year on staff, Margo is excited to work with her Co-Sports Editor and Leopard Life alum, Will Doig. This year is bittersweet to Friloux....