Hockey improves to 11-3 with tournament victory
The hockey team competed in the "Best In The West" tournament over Thanksgiving break and took home first place. The Leopards went 6-0 and outscored their opponents 35-9. 
"We went undefeated in the tournament, so I would say the games went very well," junior goalie Christian Giordano said. "I feel like as a team, we gained so much chemistry and played way better as a team than we have in the past."
The Leopards started the tournament off with a 5-0 victory over Denton and proceeded to beat Springfield Spirit and Team Texas in the next two games. Giordano recorded a shutout  in the game as well.  
"The best moment from this past week was winning the championship," senior forward Jimmy Thorpe said. "It's very good that everyone gets along and works hard for each other."
Following the first three games, the Leopards faced ATX Consolidated and came out winning by the largest margin of the week, 9-3.  
"[The games] went really well and we led the tourney by far the whole time," senior forward Nick Terranova said. "Having Jimmy back for the weekend was one of the best moments from this weekend."
In the semi-finals, the Leopards squared off against Team Texas for the second time in the tournament and looked to move forward to the championship, and that is exactly what they did, netting six goals and Giordano between the pipes only letting in one. 
"It was a pretty easy game, Team Texas is an all-girls team, so the biggest challenge is that there is no checking or physical contact allowed," Giordano said. "That makes it very easy to get into penalty trouble against them. However, I would say our team is way more talented than them, so it was a pretty easy win for us." 
After a big semi-final win, the Leopards faced off against Keller in the championship game. The team came out victorious with a 4-2 win taking home the championship. Junior forward  Jason Day Jr won tournament MVP, he totaled six goals and nine assists. 
"There wasn't a real challenge; we outplayed every team," Terranova said. "When we have our full roster our team has good chemistry and moves really well."
The Leopards have amassed an 11-3 record so far this season, and look to finish the season strong after their tournament win. 
 "I would say our team has been able to overcome pretty much any challenge we have faced this year," Giordano said. "Our record in the season so far is 11-3, and we have been able to adapt to different styles of teams. We have learned how to play as one unit which helps us to be able to pick apart teams and score lots of goals, which has been our focus so far this season."
Leave a Comment
About the Contributor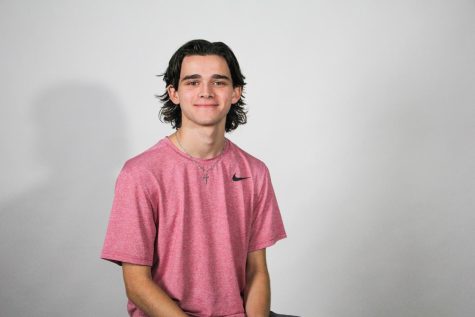 Nicholas Spooner, Staff Writer
Senior Nick Spooner enters his first year on The Red Ledger staff writing sports. Spooner is involved in PALS and plays lacrosse for the high school. Outside...