Football continues undefeated streak in district play
The football team has defeated all of their district competition so far this season. The team ran through Mesquite Poteet 70-3 on Oct 21. and went on to defeat Greenville 63-13 last Friday. These victories have contributed to the teams' 7-2 record on the season.
"As a team, we have been playing better in the past games, even despite the pouring rain and cold during last week's game," senior wide receiver Blake Redding said. "Throughout this season, we have improved talent-wise because our team chemistry has improved as we all have the same goal, which is to give maximum effort and we all will do whatever it takes to win."
When competing against Mesquite Poteet, the leopards made plays on both sides of the field that affected the game as soon as it kicked off. On the first play of the game, junior defensive back Avery Fuller recovered a fumble and returned it for a touchdown. Three plays later, senior wide receiver Kyle Parker caught a pass for the team's second touchdown, and not even a minute into the game, the team was up 14-0. 
"Our team has grown a lot and matured together," junior running back Matthew Mainord said. "We've learned a lot in the weight room and on the field. This has helped us be strong on both sides of the ball. Our defense was able to get big stops against Poteet which gave us many opportunities on offense."
The leopards were able to hold the pirates to zero points in the first half and only a field goal the whole game. The offense totaled 542 yards on the night.
"The team played great against Poteet, offense, and defense both executed what we game-planned," senior linebacker Bennett Slaughter said. "Defensively, that game showed our grit and aggressiveness. The fact that we were able to hold strong the whole game and only allow a field goal, is a good demonstration of our work ethic."
Against Greenville, Mainord ran for three touchdowns and had a total of 114 yards and 13 carries in the first half. 
"The team played pretty well last Friday," Mainord said. "We did what we were supposed to and followed our game plan which helped us score points. We made a big run in the first half and that started the game off right for us."
Four receivers had five of the nine touchdowns. Parker caught two touchdown passes, senior Jaxon Lavender had a 35-yard scoring pass, senior Blake Redding rushed 16 yards for a touchdown, and junior Parker Livingstone had one scoring catch. Senior starting quarterback Brayden Hagle played only in the first half and had 216 passing yards.
"Our team did very well this week even with the bad weather we were able to dominate on both sides of the ball," Redding said. "With such a big lead in the first half, we got to give more people opportunities to get on the field. It's always good to get all quarterbacks in the rotation because they each have their different skill sets that benefit the team as a whole."
The leopards are undefeated in the district season. The game this Thursday against Melissa will determine who will be first in the district.
"I am expecting a very good football game where it will be a high-scoring game where we're running the scoreboard up," Redding said. "And it will come down to the 4th quarter and we will power through them and we will win the game."  
The team is currently ranked second in the 5A-2 division. Following this week's game against Melissa, the team will begin their quest for a hopeful deep run in the playoffs.
"We need to focus on not letting up, sometimes we get complacent with the score and let up and that's when it has the chance to become a dogfight with the other team," Slaughter said. "But I feel we as a team and players have closer connections and bonds and this along with our motivation and grit is what will ultimately take us to round six of the playoffs."
Leave a Comment
About the Writer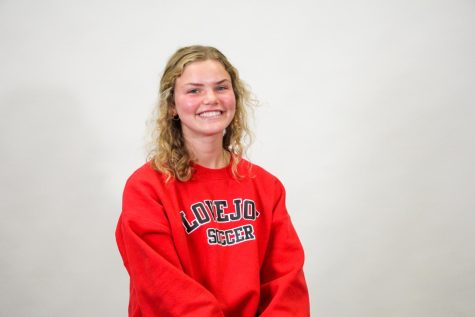 Margo Friloux, Section Editor
Entering her final year on staff, Margo is excited to work with her Co-Sports Editor and Leopard Life alum, Will Doig. This year is bittersweet to Friloux....