Volleyball improves to 5-1 in district
On Friday, the girls volleyball team faced the Princeton Panthers as they recognized their seniors for the annual Senior Night. Seniors Hannah Gonzales, Charlotte Wilson, Trista Tippin, Lilly Card, and Jordyn Brunett walked through the signature leopard tunnel with their family members celebrating their last season on the court. 
"The Lovejoy volleyball program has not only helped me become a better volleyball player," Wilson said. "It has also taught me how to make good relationships. I would say that I have really good relationships with all the coaches and everyone on my team, and I definitely do not take that for granted." 
The seniors led the team on the offense, middle Gonzales with 12 kills, pin hitter Wilson with 11, outside Tippin with 6, and pin hitter Card with 2.
"I would describe the senior game as an overall great win," Tippin said. "We played together super well and had a lot of energy which made the game really fun." 
In addition, junior Defensive Specialist Kalin Carlson had four aces, along with junior setter Bethanie Wu. 
"We played very well against Princeton and won in 3 sets," Card said. "All the seniors got to play together and it made us so much closer."
In the end, the leopards took the win in just three sets. The scores were 25-7 in the first, 25-11 in the second, and 25-10 in the third. 
"The legacy that our program carries fuels our team to give their all in every practice and game," Wilson said. "Our program also feels like a second family. Everyone on the team supports and encourages each other and makes every player feel valued."
On Tuesday, the girls faced the second-ranked team in the district, McKinney North. The game was expected to be the most anticipated game of the district season.
"I think we played like we expected to win," Tippin said. "We didn't play badly, but we came out not ready for their best and they gave us their best. We didn't follow through with our game plan which ultimately led us to a tough loss."
The Bulldogs won the first set in a nail-biter 25-22. The game was consistently tied, but North pushed ahead at the end winning the set. 
"I think as a team we learned that we need to focus on our game plan more," Card said. "We also learned that we need to take advantage of certain circumstances where the opposite team might have a weaker rotation and really gain points in those situations."
The second game looked a lot like the first. The leopards put up a fight but lost it 25-20. The leopards had a comeback in the third set and won 25-14. The girls ultimately came up short, losing the fourth set 25-21.
"The game did not go how we would have wanted it to," Wilson said. "But I thought we all put up a good fight. We did a lot of scouting and Coach Puckett came up with an amazing game plan. I think next time we play them, if we stick to the game plan, we will win." 
Sophomore outside Morgan Vanvoorhis led the team with 14 kills, followed by Gonzales with 11, then sophomore middle Shelby Burriss and Wilson both having 9. Wilson states that this game was a great learning experience.
"The game taught us many things last night, but I think the main thing is that our games will not all be a walk in the park," Wilson said. "Most of our district games are pretty easy, but McKinney North came out and was ready to beat us. I think we can use this as an experience to help us through the playoffs."
Leave a Comment
About the Writer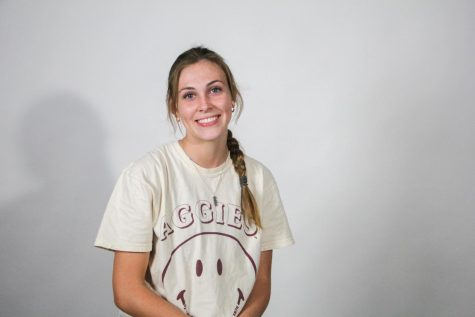 Mia Reaugh, Staff Writer
Going into her second year on TRL staff, sophomore Mia Reaugh is yearning to kick off the start of a new school year. When Reaugh isn't writing a sports...