Leopards roll into the first game of the season
The football team rushed onto the Allen Football Stadium turf for the team's first game of the season. The team faced the College Station Cougars in a Saturday night duel and came away with a 52-27 victory.
"I thought we competed well on both sides of the ball," head coach Chris Ross said. "Defensively, we had a plan and we executed it. We were able to see some young guys step in and play a huge role in our success. Offensively, we had three different quarterbacks throw for at least two touchdowns and five different receivers catch at least one touchdown pass. We expect our players to play unselfish football, and that showed all over the field in week one." 
Senior quarterback Brayden Hagle led the first-team offense for the game. Hagle threw for 293 yards and three touchdowns in 32 attempted passes.
"The offense played well for it being our first actual game," senior receiver Jaxson Lavender said. "While we were not perfect that is the most exciting thing about us is that we have much to improve on."
On defense, the Leopards forced two interceptions and held the Cougar's offense to 88 rushing yards.
"The defense played well collectively as everyone was flying to the ball," senior linebacker Bennett Slaughter said. "Sure, we made mistakes, but I'd say we did them full speed. I loved how everyone on the field was communicating and got the call in quick and knew what their keys were and what to do."
The wide receiver corps for the Leopards is a highly impactful area for the team. Jaxson Lavender and Kyle Parker round out the seniors and junior Parker Livingstone along with sophomore Daylan McCutcheon. These four along with the rest of the group make for a strong advantage come gameday; all four players combined for 339 receiving yards and five touchdowns.
"Our wide receiver corps is by far the best and it's very fun to be a part of," Lavender said. "We are very close as a group and we celebrate each other's success, but we're also there when one of us is not meeting our expectations."
In addition to Hagle, junior Alexander Franklin and senior Austin Gonzalez also saw the field at quarterback. Coach Ross' plan is to utilize all three quarterbacks in the game plan that will in turn produce matchup disadvantages for opposing defenses.
"We have three starting-caliber quarterbacks, and as shown in the game they all have a role and all three are factored into our game plan," Ross said. "All three have had tremendous attitudes and are the first to congratulate each other's successes. Having so much talent at the quarterback position is special, and we plan to utilize all three quarterbacks in various ways this season."
Moving ahead, the team will take on the Argyle Eagles on Friday for the team's home opener. Argyle will enter the game 1-0 after a victory against Melissa last week.
"Our standards have always been the same and each year is seen as an opportunity to reach that standard which has not been done yet," Lavender said. "Therefore I'm excited to try and accomplish that this year."
Leave a Comment
About the Writer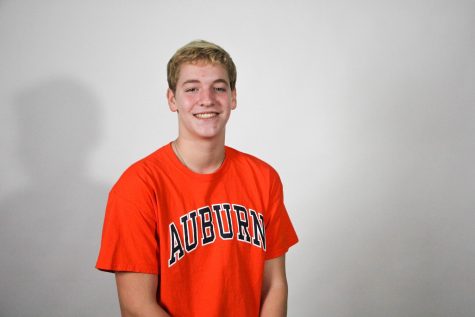 Will Doig, Section Editor
Entering his farewell year, senior Will Doig is excited about becoming a sports editor. Outside of the newsroom, you can find Doig watching any latest...