Track's final race
On Friday, the track team closed out their season, in Austin, at the state meet. The team had six events qualify for state, and returned home with one state champion and two bronze medals.
"I am so proud of the way the girls did at the State meet," head girls coach Carly Littlefield said. "It is such a big deal to get to that level. Qualifying for state automatically means you are the best of the best in Texas – only nine get to go. Our region is very challenging, so getting the opportunity to go there to compete is absolutely outstanding."
Junior Amy Morefield and sophomore Sara Morefield both competed in the 3200 meter race. Sara placed third running 11:00.99 and Amy finished fifth with a time of 11:21.22. 
"I was very excited to podium at state because standing up there and getting the medal is something I have always wanted," Sara said. "My goal going into the race was to place in the top five, so I felt really accomplished."
Sophomore Kailey Littlefield competed in the 800 meter, mile and 4×400 relay. Kailey placed first in the 800 meter race for the second year in a row and now holds the state record time of 2:06.21, shaving two seconds off of her previous time. 
"I knew Kailey was capable of her win," Carly said. "Her training has been so great. Seeing her achieve this goal just makes me so happy for her. She's put so much work in and really steps up when it's time to compete. She always leaves it all on the track, and that's all you can ask for."
The girls also competed in the 4×400 meter relay. Junior Leila Ngapout, freshman Mia Reaugh, Amy, and Kailey placed fourth overall and ran a time of 3:51.58.
"Our team competed very well this year and had a great season," Kailey said. "I see a lot of potential in all of our girls and hope to see lots of success on the future. We have such an amazing girls team and everyone works so hard. I love seeing our girls get new PRs and all of their hard work paying off."
On the boys side, junior Jaxson Lavender, sophomore Parker Livingstone and seniors Omari Murdock and Riley McGowan qualified to State in the 4×400 meter relay and McGowan also advanced in the 400 meter. McGowan placed sixth overall in the 400 meter. The 4×400 finished in third with a time of 3:16.21.
"As a coach, I just want to assist my kids in achieving their goals, no matter what they are," Carly said. "For some that might mean winning a State Championship, and for others it might mean getting your best time, throw or jump in any meet. When kids achieve something they've worked hard for, that's what it's all about. The success at State is just icing on the cake."
Throughout this season, the team set numerous new school and personal records. The coaches said they focused on mentality development along with physical growth. A handful of seniors will be graduating this year, but the team consists of many underclassmen who will have the opportunity to improve through their high school careers. 
"This season taught me that running is more than winning," Kailey said. "Yes, winning is always the goal, but it is more important for me to be enjoying my sport and not taking the fun away from it. I have learned a lot about opportunities. At state, I had the opportunity to race an amazing girl and run an amazing time. I used that opportunity to my advantage and realized that win or lose I wanted to run my best. Overall, it was a great season with great teammates and coaches who supported me the whole way."
Leave a Comment
About the Writer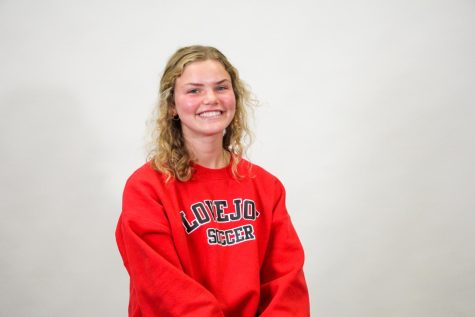 Margo Friloux, Section Editor
Entering her final year on staff, Margo is excited to work with her Co-Sports Editor and Leopard Life alum, Will Doig. This year is bittersweet to Friloux....