Boys lacrosse makes program history
This past weekend, the boys lacrosse team lost the state championship game placing second in the state tournament. On Saturday, the team beat Katy in the semi-finals 11-10. Senior midfielders Alec Viel and Luca Rey, along with junior Nick Spooner, sophomores Jacob Kirchhofer, Zack Branch, Nathan White and freshman Owen Magee all contributed to the 11 goals scored.
"It was a great tournament," senior midfielder Alec Viel said. "Winning the previous day in the semifinals to Katy 11-10. It was tough losing in the state finals by that much but we gave it our all and I'm proud of how far we went in the tournament."
On Sunday, the team played Keller in the state championship. The game was close in the first half, however, the team ultimately fell short and lost 24-12. Despite the loss, the state runner-up title was the first in program history. 
"It was bittersweet," senior defender Kendall Carll said. "Before our class, I don't think our team had made it past the first round of Class B playoffs. To make it to the state championship four years later, even though we couldn't bring home the trophy, is really rewarding."
In the second game, White, Spooner, Rey, Kirchhofer and Viel scored again along with junior midfielders Caleb Christian and freshman Kevin Magee. 
"As soon as the clock hit zero, a lot of emotion hit me all at once especially knowing that this was the last time I would be playing lacrosse for Lovejoy," senior midfielder Luca Rey said. "The lacrosse program has meant a lot to me. It was my way of making friends my freshman year, and my teammates have been some of my best friends. I am very thankful for being able to be a part of the lacrosse program."
In the end, the Leopards finished the season 13-3 overall while claiming a 7-2 record in their district.
"I'm pleased we made it to the championship but unsatisfied with the result," head coach Demetrius Parker said. "I'm glad in my first year as the head coach that we were able to battle through a lot of adversities. I believe the program has a new standard and has a new culture that will thrive in the years to come."
Many athletes received awards for their performances this season. Rey received All-State, Viel and Nolan Morrow received All-District, Owen Magee received All-District Honorable Mention, and Carll received Academic All-American Nominee. 
"Our culture and chemistry was a big key to our success," Carll said. "Especially on the defensive side. I've been working with, training and playing with some of our now starting poles for upwards of six years, so the bonds we have are unmatched. That kind of relationship allowed us to be tough on each other without anyone taking personal offense."
Moving forward, Parker has large goals for the upcoming season that will be driven by the motivation of the state championship defeat.
"I believe we have unfinished business," Parker said. "The energy and passion expressed after the Keller game will act as motivation. This off-season we will have skill sessions set up to keep our athletes sharp and in condition. The team expressed never wanting to feel that kind of disappointment and we will come back stronger."
Leave a Comment
About the Writer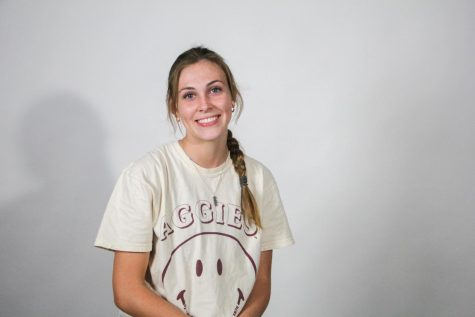 Mia Reaugh, Staff Writer
Going into her second year on TRL staff, sophomore Mia Reaugh is yearning to kick off the start of a new school year. When Reaugh isn't writing a sports...