Leopards hit the track for regionals
The track team competed at the Regional meet last Friday and Saturday. The girls team finished in second place overall with a score of 74, and the boys placed third with a score of 52.
"I am ecstatic about our Regional meet," head girls coach Carly Littlefield said. "We have had so many girls step up, buy in, and start believing in what they are capable of. To go and be the Regional Runner-up to the Track and Field powerhouse, Lancaster, is an amazing accomplishment for this group."
Sophomore Kailey Littlefield and junior Amy Morefield advanced in the 800 meter race. Kailey placed first running a 2:08.25, and Amy finished third with a time of 2:14.92. Kailey also won in the 1600 meter running a 4:57.45. Both the Morefield sisters, Amy and sophomore Sara, swept the competition in the 3200 meter. Amy finished in first running a 10:52.57 and Sara placed second with a time of 10:55.20. 
"The team's endurance and speed has improved a lot this season," Sara said. "Placing first as a team at Area and second at Regionals shows the hard work and our growth throughout this season. We have proven what we are capable of, and we're excited to show that at State."
Junior Leila Ngapout placed third in the 100 meter dash running a 11.96, but she did not advance to State. Freshman Mia Reaugh, Kailey, and juniors Amy and Ngapout qualified for State in the 4×400 relay by placing second with a time of 3:47.61.
"The girls are finally understanding the team part of Track and Field," Carly said. "It's more than an individual sport, and when everyone does their job, the team is able to have success and it's so fun." 
The boys 4×400 relay also advanced to State. Sophomore Parkerlivingstone, junior Jaxson Lavender, and seniors Riley McGowan and Omari Murdock placed first with a time of 3:15.72. 
"We performed almost perfectly in all our events," Lavender said. "In our 4×400 handoffs were on time and perfectly paced, and the stick never lost speed around the track. We all did a great job of competing during our individual legs and staying disciplined, which led to us winning the region in that race." 
McGowan also advanced in the 400 meter placing second with a time of 48.11. He also placed third in the 800 meter running a 1:56.16, earning points for the team, but not advancing to State.
"It's serious business at Regionals," Carly said. "Every athlete there is the real deal. Everyone there is talented, focused, and highly competitive. When you hit the Regional stage you know you're a serious athlete."
 The team will end their season competing at the University of Texas at Austin on May 13. In preparation for State, the team will focus on speed, fundamentals, and recovery the next two weeks. 
"The team works harder than most could imagine," Carly said. "There aren't many practices without some crying, throwing up, or bodies sprawled about the field in exhaustion. They earn their success and that is for sure. We are nervous but so excited and ready to have this great opportunity to perform in front of hundreds of screaming fans who love Track and Field at State."
Leave a Comment
About the Writer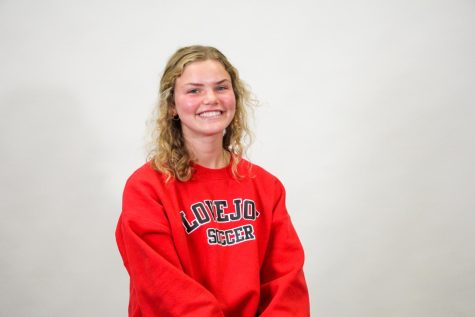 Margo Friloux, Section Editor
Entering her final year on staff, Margo is excited to work with her Co-Sports Editor and Leopard Life alum, Will Doig. This year is bittersweet to Friloux....