Football kicks off spring practices
It's been five months since the Leopards concluded their season in the fourth round of the playoffs, but now have their sights set on what's ahead: spring football.
"Spring ball is 'show me' time," head coach Chris Ross said. "This team has been working non stop for several months to get bigger, faster and stronger. Spring ball gives them the opportunity to show their improvement. We will be able to slow down and teach concepts and fundamentals. Not having an opponent allows us more time to focus on our own individual and team improvement."
The team begins the day in the morning where they hit the weight room, study film from the previous practice and go through walk-throughs.
"Our main goals are to get better everyday and learn something everyday," rising senior linebacker Bennett Slaughter said. "We want to be the best we can be so it doesn't matter how much better we get as long as it's one percent better."
Last Monday, the team began practices; they start at 4:30 p.m. and last until about 6:00 p.m.
"Myself and the team are very excited about getting back on the field," rising senior receiver Kyle Parker said. "The team has been waiting for football to start back, and get back in action."
In practice, the Leopards alternate in between individual, position groups to team sessions where they go over game-like situations. 
"Individuals are to work on just our specific unit and to work on the little things that to a normal human eye wouldn't recognize, but makes all of the difference when you play the game," Slaughter said. "Your first step, your eyes, your keys, etc. help the team because when we all come together we are on one page, and we can collectively execute our jobs as an individual but more importantly as a unit."
In the QB room, the Leopards have a three-way battle between returning starter and rising junior Alexander Franklin, returning rising senior backup Brayden Hagle and Austin Gonzales, a transfer from Plano Senior. However, Ross says that there is a position battle in every position.
"There is a battle going on at every position right now," Ross said. "That's what spring football is for. Every Leopard has the opportunity to go compete at their position. We have no starters right now; our focus is on improving as a team and putting each player in the best position to be successful and contribute to our goals."
Moving forward, the team will have their annual spring game on May 19 and after that, will prepare for summer workouts.
"We are preparing by installing new calls everyday, going fast paced and practicing and learning how to be a collective unit on both sides of the ball," Slaughter said. "We are all very excited because this team has a great opportunity to do something very special and after the two previous years of falling short of our end goal of a state title, we have something to prove."
The team will continue on with the offseason as they get ready for the season and their first game against the College Station Cougars on Aug. 26, which is a neutral site game.
"Spring and off-season will help us prepare a lot for the season," Parker said. "We are getting in physical shape for all the work we will be doing during the season. We are also getting to know all the plays and working out all of our problems [in the plays]."
Leave a Comment
About the Contributor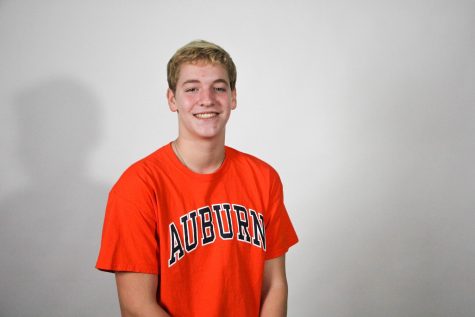 Will Doig, Section Editor
Entering his farewell year, senior Will Doig is excited about becoming a sports editor. Outside of the newsroom, you can find Doig watching any latest...