Track hosts invitational meet
The track team laced up their spikes this past Friday as they hosted the Lovejoy Invitational meet. The boys team placed fourth and the girls fifth overall. The team broke multiple personal and school records.
"We had some really great stuff happen on Friday," head coach Carly Littlefield said. "Kailey Littlefield broke the stadium record and her own school record in the 400 meter race, and our field events had great performances too."
Sophomore Kailey Littlefield placed first in the 400 meter running a 55.91 and first in the 800-meter race where she ran a 2:09.84.
"I've gotten a lot faster in my 400 meter since the beginning of the season because I've been focusing on my form, and it's helped me a lot," Kailey said. "Continuously pushing myself and breaking my own personal and school records shows me my improvement."
The girls 4×400 meter relay ran a 3:57.59. Freshman Mia Reaugh, junior Leila Ngapout, Amy Morefield and Chloe Schaffer placed third in the race.
"Our 4×400 had a great race as always," Carly said. "Mia Reaugh ran an outstanding leg in the mile relay leading her team to a 3rd place finish."
Junior Amy Morefield and sophomore Sarah Morefield ran the 3200-meter race. Amy placed first running a 10:49.46, and Sarah came in second with a time of 10:57.41.
"We want to win and podium as many athletes as possible at districts next week," Kailey said. "We have had many runners prove that they can achieve this goal through their performances this season."
On the boys side, senior Riley McGowan placed first in the 800 meter running a 1:58.78 and fourth in the 400 meter with a time of 49.55. Sophomore Parker Livingstone placed fourth in the 200 meter with a time of 22.43. 
"Our distance runners have been performing very well each week," head boys coach Logan Kelly said. "If we can keep athletes healthy and keep performing well, we should have a good shot at placing well as a team in all the championship meets." 
The team will not have a meet this week, but they have their district meet on April 13. The district meet decides who will qualify for area which will take place on April 21.
"We will have a good, hard week of training this week and get in some speed workouts to help strengthen us and hopefully advance a good amount of athletes to area." Kailey said.
Throughout this season, the team continues to break their own school records. They are preparing for their specific events for districts in hopes to advance as many athletes as possible to area.
"Our athletes are improving each week and that is the goal; they have to be their best on April 13 and 14," Carly said. "The kids are proving that they can meet our goal of advancing as many athletes to the road to state as possible. They have developed the mentality and physicality to reach that goal."
Leave a Comment
About the Writer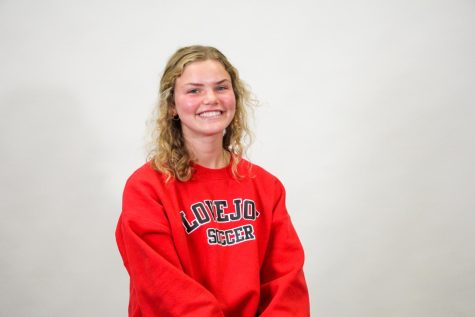 Margo Friloux, Section Editor
Entering her final year on staff, Margo is excited to work with her Co-Sports Editor and Leopard Life alum, Will Doig. This year is bittersweet to Friloux....