Track competes in Texas relays
This past Saturday, the track team sent athletes to the Texas Relays meet at the University of Texas at Austin. Other athletes qualified and competed in the Jesuit meet. 
"We had a lot of great performances at the Texas Relays and the Jesuit meet," head girls coach Carly Littlefield said. "We broke the school record once again in the 4×400 relay and we had two PRs by Lauren Dolberry in the 300 hurdles and Sarah Salsgiver in the pole vault."
The girls team sent the 4×400 meter relay to the Texas Relays meet, where junior Chloe Schaffer, Amy Morefield, and Leila Ngapout along with sophomore Kailey Littlefield broke their own school record running a time of 3:53.47.
"It felt great to break the school record in the 4×400 considering it's still early in the season," Kailey said. "I think we can get a lot faster and podium at state if we all have a great racing day and continue to work hard."
The boys team sent seniors Matt Muray, Jake Piccorillo, Riley McGowan, and Tate Barr to compete in the distance medley relay at the meet.
"The competition is as high of a level as it gets and it's one of the biggest atmospheres for track and field in the nation at the Texas Relays meet," head boys coach Logan Kelly said. "It's a great time and experience for our kids."
The athletes that qualified for the Jesuit meet were sophomores Lauren Dolbery, Caroline Dolbery, and junior Sarah Salsgiver. 
"We are sharpening up technique, and focusing on intensity and speed," Carly said. "Our athletes are consistently proving this by continuing to push themselves and beat their own records."
On the boys side, sophomore Parker Livingstone placed second in the 200 meter and set his new personal record with a time of 22.40. Junior Jaxon Lavender placed third in the 400-meter race and won the 100 meter with a personal record time of 10.7.
"I had ran a 10.74 [in the 100-meter race] my sophomore year and I shaved .02 seconds off this time," Lavender said. "I was very ecstatic to know I'm a legit 10.7 and possible 10.6, therefore boosting my confidence in my abilities and work ethic."
The team has a home meet this Friday. The next meet after that is the district champion meet on April 13 and 14.
"We try to fill as many spots in events that we can to try and earn as many points as we can," Kelly said. "Our goal is to advance as many athletes as we can to the Area, Region, and State meet. If we can keep athletes healthy we should have a good shot at placing well as a team in all the championship meets."
Leave a Comment
About the Contributor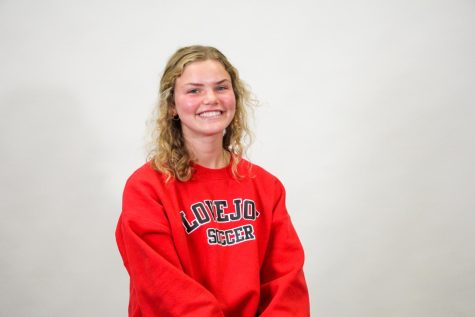 Margo Friloux, Section Editor
Entering her final year on staff, Margo is excited to work with her Co-Sports Editor and Leopard Life alum, Will Doig. This year is bittersweet to Friloux....