Featured Athlete: Natalia Duran De La Vega
Junior Natalia Duran De La Vega participates in club and school soccer, Spanish Honor Society, French Club, Junior World Affairs Council, Key Club and is president of the Spanish Club. 
Pre Game:
Club Team: Sting
Favorite pre-game meal: Sandwich
Favorite study method: Repetition
Years of experience: 12 years
Post Game:
The Red Ledger: How do you balance being in various clubs and soccer?
Natalia Duran De La Vega: Sometimes it gets hard, but I just try to prioritize things and schedule things as best as I can. That helps me balance everything. 
TRL: What are your goals for the future in soccer? 
ND: Right now, I just really want to become the best player I can be during my time in high school, and I'm still not sure about college soccer. 
TRL: What is soccer team culture like? 
ND: It's awesome; I honestly love it. Everyone is so nice. You're just hanging out with your friends most of the time, so it's a good break from school work and all that. It can be hard sometimes, but I always enjoy it. 
TRL: Do you have any role models or athletes you look up to? 
ND: There's a lot, but probably Megan Rapinoe. I really like her because she's so outspoken about everything she does and everything she loves. She was on the US women's national team. She is just a great athlete and a great person, and I really look up to her. 
TRL: How do school soccer and club soccer differ for you? 
ND: Besides the people being different and just having different relationships with the people on each team, club soccer is a lot more demanding. It's a lot more hours, traveling, tournaments and it's just a lot more than school soccer. I think school soccer is just a lot more fun compared to club soccer because of those things. 
TRL: What is your soccer training schedule like? 
NDDLV: It depends on the time of the year. When it is club soccer season, I'll practice twice a week for about an hour and a half, and then I'll have games on the weekends. In school soccer season, we typically practice every day after school unless we have a game. Club soccer is usually from the start of the school year to December. Then club soccer is from January to March or early April and then starts up again around March or May. They overlap for a little bit but mostly they don't.  
TRL: How did you become president of the Spanish club?
ND: The club kind of died down during the pandemic and everyone leading it graduated, so I talked to Mr. Madrid. We had a couple meetings, and it was a little bit chaotic starting the club up again. We took some votes and that's kind of how it happened. 
TRL: When did you start speaking spanish?
ND: Spanish was actually my first language, so I've always kind of spoken spanish. 
TRL: What made you join the Spanish Honor Society and Spanish Club?
ND: Those two clubs allow me to show my Spanish culture and spread it to all of Lovejoy, and I think that's really important. It was just a good outlet to join. 
TRL: Any advice for balancing school clubs and sports?
ND: I would say that it would be hard sometimes, but as long as you're doing something you like it would never really feel like too much of a burden. 
TRL: How are Spanish honors societies and Spanish clubs different? 
ND: Anyone can be in the Spanish Club, but to be in the Spanish Honors Society, you have to have taken at least one semester of AP Spanish and have a grade in that class above a certain point. Meetings in Spanish Honors Society are usually around once a month and consist of sending information out to our members about different service projects. In Spanish club, we usually meet once a month, play games and activities from Spanish speaking cultures, play music and have food. We played Lotería, which is kind of like bingo, but it's played in a lot of different Spanish countries. We had a prize at the end so we tried to make it fun. 
Leave a Comment
About the Contributor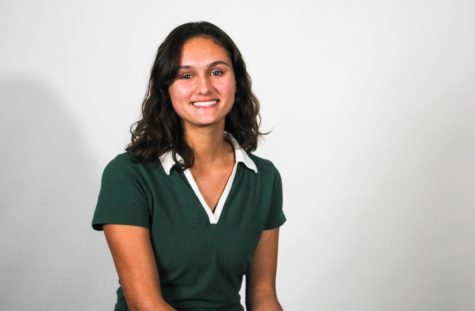 Marisa Green, Staff Writer
Entering her second year on staff, sophomore Marisa Green is excited to get back into writing for TRL. Outside of the newsroom, Green spends her time running...