Wrestling brings home state championship
On Friday and Saturday, the UIL wrestling state championships took place at the Berry Center in Cypress. Over the weekend, the boys' wrestling team was crowned 5A state champions. 
"We have been building up to this point throughout the year to make sure we peaked at this time," head coach Mike Eaton said. "We have wrestled an extremely tough schedule to help sharpen our men and women so they were ready for this weekend."
Sophomore Payton Pierce won an individual state title in the 220 category. 
"I believe that my brother is the main reason I have all my success," Pierce said. "He is one of the best wrestling coaches in the country, and he has experience at every level of wrestling. He pushes me like nobody else and has a passion like nobody else. He helped me get better every day in every aspect of the sport. I couldn't thank him enough."
Going into the state championship, there were nine boys out of the 14 varsity members who qualified for state, the most qualifiers the high school has ever brought to the state tournament. 
"Our whole team contributed," Eaton said. "Either as a practice partner or one of our varsity starters throughout the year. They gave us the state championship trophy Saturday night, but we earned it through hours and days and weeks of hard work in the wrestling room, running, weight room, etc. Our men and women put a lot of work into this. So to have nine men qualify out of 14 for the state tournament was huge."
In addition to Pierce, sophomore Sam Reynolds also came in first in the 285 category.
"It is all a mentality," Reynolds said. "You have to believe that you will win and have confidence, if you do that the rest will come with it. It was a goal of mine to win state and knowing that I worked as hard as I could and left it all on the mat really just made the moment so great."
The team faced many previous teams from the duels state championship: Caprock, Tascosa, Randall and Dripping Springs.
"The tournament was a very evenly contested one," Eaton said. "There were several very good teams we knew would give us a run. The crazy thing is that we led the tournament at the end of each round. But we didn't have it wrapped up until the end of the 132 lb. final match. When the Tascosa kid lost, we knew we had it won. At that point, our focus shifted to make sure our two finalists, Payton Pierce and Sam Reynolds, knew they just needed to win for themselves."
After senior Avery Ashley received the Girls Regional Outstanding Wrestler of the Year, she won in the 110 weight class. Ashley is a two-time state champion and a three-time state finalist. In all, five wrestlers placed individually. 
"We had two men [Isaiah Hunter and Austin Blair] who won bronze medals and then had three wrestlers who won gold medals–the best woman in the state, Avery Ashley, along with Payton Pierce and Sam Reynolds," Eaton said. "So for those five wrestlers to all win out was huge for us as a team and really is a testament to their competitiveness and resolve."
This was wrestling's first state title in their program history, and according to Eaton, the team's training will be different next year than this past year.
"We will now have 'the target on our backs,' so to speak," Eaton said. "So we need to prepare in a way that we haven't before now. We have the nucleus of a team that can win a few state championships in a row here, if not more. We can't train like we did last year or even yesterday. We need to keep improving and win the next day, the next event."
Leave a Comment
About the Writer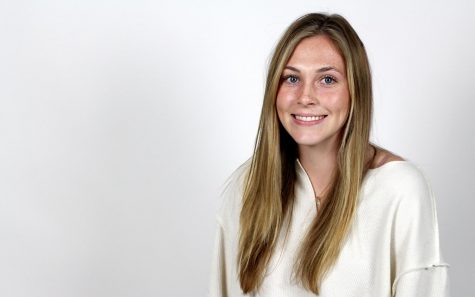 Mia Reaugh, Staff Writer
2021 is freshman Mia Reaugh's very first year in high school and TRL, and she is ready to tackle both. Reaugh loves everything about reading and writing,...