Featured Athlete: Bethany Wu
Sophomore Bethany Wu is a volleyball player who was recently invited to the Under Armor All American Camp. Outside of school, Wu is involved in church. 
Pre Game:
Hype song: "S&M" by Rihanna
Pre-game snack: Alani Nu Cherry Slush energy drink, Fit Crunch protein bar
Favorite tv show: "Brooklyn 99" 
Aspirations: dermatology, sports medicine or an entrepreneurship
Post Game:
The Red Ledger: How did you receive an invitation to the Under Armor All American Camp?
Bethany Wu: There is a recruiter who goes out and watches a bunch of players all around the country. When we play at tournaments, she will watch us play and choose a select amount of players to go to the camp. I think the camp is a great way to showcase your skills to different colleges and get exposure. It also is really cool to be able to play with some of the top athletes all around the country. 
TRL: How long have you been playing volleyball, what role does it play in your life? 
BW: I have been playing volleyball since I was 12. I originally started playing basketball but I never really enjoyed it. When I started playing competitive volleyball, it was such a game changer. The club volleyball world is so much more competitive, especially in North Texas, and your team basically becomes your second family. 
TRL: What is your team outside of school and how often do you practice?
BW: I am a setter, and I play for Texas Advantage Volleyball 16 Black. I practice every Monday and Wednesday from 5:30 to 8:30. We also have tournaments over the weekend and occasionally on Friday, too.
TRL: What goals do you have for yourself and your sport?
BW: My short term goal is winning nationals for club. Nationals is in July, and we compete against teams all over the nation. My long term goal is to be able to compete at a collegiate level and play at a D1 school. 
TRL: What are some mental challenges you've encountered with volleyball?
BW: Volleyball is very challenging mentally because it is a game of mistakes. I have really high expectations for myself, so when I do make mistakes I am very hard on myself. I have to be mentally strong, overcome my challenges and not let them block me mentally. 
TRL: What physical challenges have you faced in volleyball?
BW: Physically, volleyball is also challenging because of the amount of volleyball you have to do everyday. I do additional workouts on Tuesdays, Thursdays and Saturdays when I don't have practices or tournaments. Having to play every day can be hard physically, so I make sure that I always have Sundays as my rest days. 
TRL: How did it feel to win state?
BW: Winning state was amazing. I feel like this year especially everyone had to pull their weight. Everyone had to do their job, and it wasn't like one person could win the whole thing. The team dynamic was amazing, and everyone just got along so well which is hard to find with some teams. 
TRL: Are you involved in any other extracurriculars?
BW: I am really involved in my church. There are many activities that I attend like service projects, young women get togethers and bible study. I joined my church because immediately I noticed that the atmosphere is so different than so many other churches. The people there are so kind, welcoming and so generous to others, and I am so grateful to be a part of my church. God is so important to my life, and I know that I would not be in the place I am today without Him. 
TRL: Who inspires you in athletics and in life?
BW: Someone I look up to athletically is Jhenna Gabriel. When people first see her, they underestimate her because she is on the shorter side in the volleyball world. She had to work hard in order to build up her name, and I think it is so amazing to see how she has overcome so many obstacles and proved so many people wrong.
Leave a Comment
About the Writer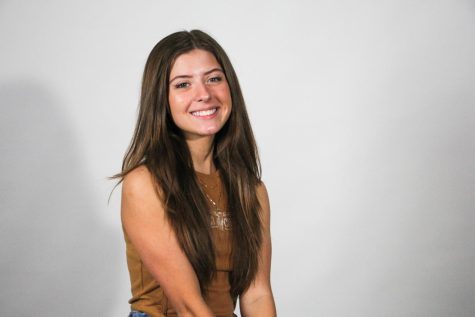 Sarah Hibberd, Editor-In-Chief
All good things must come to an end, but what about great things? Although she's approaching the end of her high school career, senior Sarah Hibberd...