Featured Athlete: Kyle Parker
Kyle Parker is a junior wide receiver who moved back to Lovejoy from JPll last year. He has recently racked up his first 4 division one offers, something he's dreamed of since he was a kid.
Pre Game:
Favorite pre-game meal: Chick-fil-a
Favorite song artist: Lil Baby
Favorite toothpaste flavor: Mint
Favorite NFL team: Saints
Post Game:
The Red Ledger: How does it feel to be recognized by receiving these college scholarships? Why?
Kyle Parker: It feels great to be recognized by these colleges. I've been working hard all of my life to make it big in football, I've always dreamed about going to Division 1 to play football. Receiving these scholarships has been a great feeling for me, and I'm very blessed to be in the position I'm in, but there is always more work to be done.
TRL: If you could play any other sport rather than football, what would it be? Why?
KP: I would probably play basketball, I started playing basketball when I was four years old. Basketball is also a fun and competitive sport and which fits me well since I'm a very competitive person.
TRL: What made you decide to transfer from John Paul ll back to Lovejoy? Why?
KP: So I was in the Lovejoy school district from kindergarten to 8th grade then I transferred to John Paul II. I went to John Paul because I wanted to be able to play football with my older brother who had been at John Paul for two years already. After my sophomore football season, Some of the new Lovejoy coaches that I knew called for me to come back, and I ended up transferring back.
TRL: Was the final play against Frisco Liberty that was thrown to you a catch? Why?
KP: The final play against Frisco Liberty was a catch. It was a very controversial call that had to be made at the moment of that play. At the moment that the play happened I was sitting in the back of the endzone with my hands up knowing for sure that I scored, then the refs got together and said it was an interception. I was very heated at that moment because I knew that was the last play of the game to win the district championship. 
TRL: What do you hope to accomplish by the end of your high school career? Why?
KP: I hope to accomplish a State championship before my high school career is over, and achieve 1,000 receiving yards before I get out of high school. My goal is to also become an all district-wide receiver, an all-state receiver, and maybe break a record in any category.
TRL: When do you plan to make your commitment?
KP: I haven't gotten that far in my recruitment yet. My commitment is going to be a very big decision in my life and I will definitely take my time to make my decision, but as of right now, I'm still unsure when I will make a choice.
TRL: How do you think the team will perform in the playoffs going forward? Why?
KP: I think the team will perform great in the playoffs. We prepare very hard for the different opponents we face, and we have a great team bond. We also have a great defense with some great players and our offense is just as good. In addition, we are led by the best coaching staff in the state of Texas in my opinion.
TRL: Who inspires you in football and outside of it? Why?
KP: Some people who inspire me in football right now are Stefon Diggs and Keenan Allen. I try to match my game to theirs by how they play. Outside of the field, I would probably say my Dad inspires me the most. He has taught me almost all the basics of football and pushes me to be the best player I can be.
Leave a Comment
About the Writer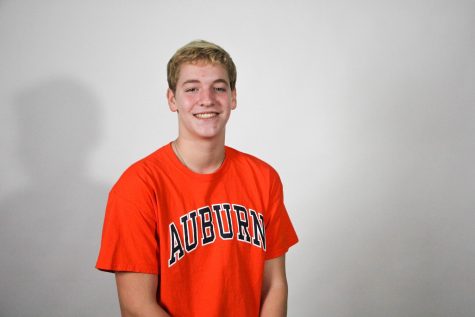 Will Doig, Section Editor
Entering his farewell year, senior Will Doig is excited about becoming a sports editor. Outside of the newsroom, you can find Doig watching any latest...