Pre-game: 
Favorite hype song: "Don't stop me now" by Queen 
Athlete you look up to: I look up to the really good tumblers on my own team and other teams.
Years of experience: 7 years 
Post-game:
The Red Ledger: Why did you start cheering and when?
Isabel Szymanski: I started with sideline cheer for Allen Sports Association (ASA) when I was five and I've been tumbling since before then. I didn't start competitive cheer until I was 10, and I started because my best friend did it.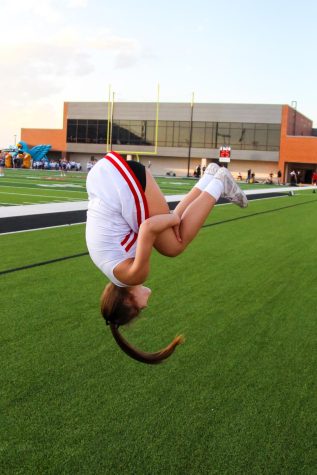 TRL: What team do you cheer for?
IS: Lady Reign at Spirit of Texas.
TRL: How would you compare school cheer and competitive cheer?
IS: School cheer is more about getting the crowds involved as you cheer. Competitive cheer requires a more complex skill set when doing difficult tumbling and higher level stunting.
TRL: What are your proudest accomplishments in cheer?
IS: I have won the National Cheer Association Competition (NCA) four times. 
TRL: Describe a day in your life.
IS: I wake up, go to school, get home for like 10 minutes, leave for practice, practice for three hours, get home at 10 p.m., eat dinner, do homework.
TRL: What is your favorite thing about cheer?
IS: My favorite thing about cheer is competition season and the adrenaline rush I get before competing.
TRL: Who inspires you and why?
IS: My coaches inspire me because they're always pushing me to do better.
TRL: Who are your biggest supporters?
IS: My mom, my dad, and my coaches are my biggest supporters
TRL: What's your favorite cheer memory?
IS: My year when I was on a level 3 team we won pretty much every competition
TRL: Why do you cheer?
IS: I cheer because I think it's a lot of fun, even though it's a lot of time and effort I really enjoy spending time with my team and learning new skills and having fun at practices