Featured Athlete: Peyton Benson
Pre-game:
Favorite pre-game snack: Granola Bar
Favorite pre-game song: "DJ Got Us Fallin' in Love" by Usher feat. Pitbull
Athlete you look up to: Emma Coburn
Favorite TV show: Manifest
Post-game:
The Red Ledger: What motivated you to start running cross country?
Peyton Benson: My parents both ran in high school and college, so one year I wanted to try it and I ended up loving it.
TRL: How long have you been running cross country?
PB: I have been doing cross country since the earliest I could, sixth grade, but I have been running since second Grade.
TRL: How does having your mom as a coach impact you?
PB: I feel like I have a little bit of a different relationship with her when she is coaching rather than just being my mom.
TRL: What is your favorite part about being on the cross country team?
PB: I love being a part of a team sport, my favorite thing about being on the cross country team is probably making lifelong friends and the times we hang out outside of practice.
TRL: Do you hope to continue running cross country in college?
PB: Yes, I hope to run cross country in college.
TRL: How has the change of schools affected you?
PB: I feel like it has helped me. Lovejoy has such an amazing community and I have made some amazing friends, and it has a smaller town feel than Frisco.
TRL: Why do you run cross country? 
PB: It is something I really love and enjoy, and it is a sport that you have to have a ton of endurance and strength physically, and you also have to have a great deal of mental strength as well.
Leave a Comment
About the Writer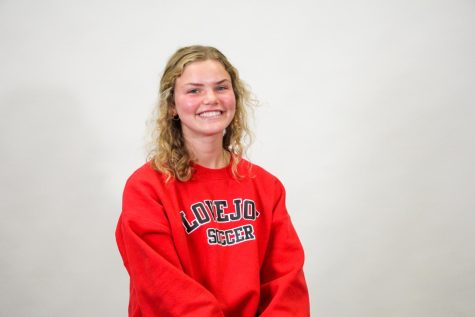 Margo Friloux, Section Editor
Entering her final year on staff, Margo is excited to work with her Co-Sports Editor and Leopard Life alum, Will Doig. This year is bittersweet to Friloux....