Volleyball alumna fills position as head coach
Last year when head volleyball coach Ryan Mitchell resigned, the search for a new head volleyball coach began. At the beginning of the summer, the school hired alumna, volleyball state champion and assistant coach, Natalie Puckett. 
"Coach Puckett is detail oriented, but keeps the big picture in mind," freshman Shelby Burris said. "I feel very comfortable with her and love that she is my coach." 
Puckett has stayed involved in volleyball since she began playing in the third grade. She walked the stage with the high school's second graduating class in 2011. While attending the high school, she won the state championship in 2008, 2009 and 2010. 
"While I was here, we went from, 'Who's Lovejoy?' to being known for our amazing volleyball," Puckett said. 
Because of her connection to the district, Puckett relates to her athletes and shares similar experiences with them.
"I think I relate a lot with the girls, just because I have been in their shoes before," Puckett said. "I am able to pull from my experiences as an athlete here into my coaching techniques."
After college, Puckett started her career as a teacher and coach. From 2018 to 2019, she was the assistant coach for the district. That time spent gave Puckett the opportunity to learn about coaching and led to her current position as head coach.
"Throughout my experiences with being an assistant coach, both the two people I worked under allowed me to do more than the average assistant coach," Puckett said. "I've had the training and experience, even without the title next to it."
Puckett shares her expectations for this season. The varsity team is currently 19-5 and continues practicing to improve. The team works to integrate new players and compete against new teams.
"
While I was here, we went from, 'Who's Lovejoy?' to being known for our amazing volleyball"
— Natalie Puckett
"A state championship is always a goal for Lovejoy volleyball," Puckett said. "Not only being state champions, but being recognized as one of the top teams in the state and nation is something we want to continue to strive for."
Puckett emphasizes the importance of practice in order to meet the team's goals.
"She runs a fast-paced practice, but also gives us time to break down our technique to help us get better," senior player Averi Carlson said. "She focuses a lot on the team aspect of the game which I love."
The varsity team took fifth place at the Volleypalooza tournament two weeks ago. Coach Puckett plans to lead the team to victory this season. 
"We went 8-1 at our first tournament," Puckett said. The expectations are set high for the rest of the season."
Leave a Comment
About the Writer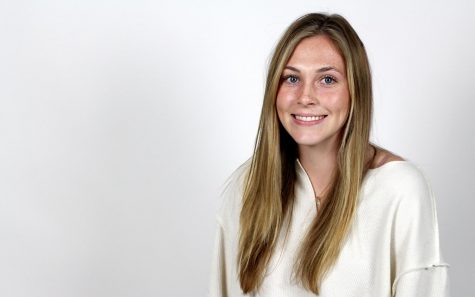 Mia Reaugh, Staff Writer
2021 is freshman Mia Reaugh's very first year in high school and TRL, and she is ready to tackle both. Reaugh loves everything about reading and writing,...