Football takes home first win in season opener
Football season kicked off with an immediate kickoff return by senior linebacker Dillion Mcgee. On Friday night, the Leopards traveled to Waco to take on the Bryan Vikings and came out with a 44-14 win. After a change in COVID-19 protocols, the team switched opponents from John Paul II to Bryan. So with little time, the staff was able to schedule the game against the Vikings.
"After going through last year, we all understand that scheduling changes due to covid is a very real possibility every week," head coach Chris Ross said. "We also saw many states that never got to play at all. We feel blessed just to get the opportunity to play."
The team was rolling on both sides of the ball early, and ended the half with a 41-7 lead.
"We always play as a team, and we always go 100 percent regardless of what is happening," junior outside linebacker Bennett Slaughter said. "We train and practice hard and bring our tools to the table on gameday."
The Leopards also had a new face at quarterback as sophomore Alexander "Hondo" Franklin took the start. Franklin ended the game with 116 passing yards and three touchdown passes.
"The whole defense, special teams, wideouts and obviously Hondo and the Q's [played well], but I was very impressed with our running backs and offensive line," junior receiver Jaxson Lavender said. "Coming from someone who saw it first hand, they were definitely dominant in the trenches."
The defense also contributed, allowing only one touchdown in each half. The team also forced a fumble and an interception that came from sophomore linebacker Chase Bogle.
"Overall, we felt like our defense and special teams would allow us to control the field position, and that's exactly what happened," Ross said. "The offense had outstanding starting field position all night. We were able to capitalize with three passing TDs, two rushing TDs and a field goal. While we missed several scoring opportunities, we played well enough to put the game away early."
The leopards also rolled on offense. Sophomore's Jaxson Lavender and Kyle Parker and senior Jack Livingstone had touchdown grabs. Senior Noah Naidoo and sophomore Matthew Mainord led the team in rushing yards. Naidoo rushed 10 times for 56 yards and a touchdown, while Mainord rushed 15 times for 54 yards.
"I'd say that we all looked really good," Slaughter said. "We played as a unit. Everyone did their job, and that's what made us do so well. Our communication plays a big factor in why we do so well."
The team will face off against Sulphur Springs for their first home game this week followed by the first district game of the year on Sept. 17.
"I think we came out and had amazing energy and played lights out, but it is still the first game, and because of that, we are always going to be a little sloppier," Lavender said. "However, the upside for the rest of the season is really high when you look at it."
Leave a Comment
About the Contributor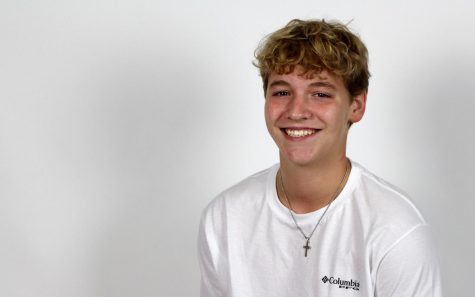 Will Doig, Staff Writer
Junior Will Doig enters his second year on The Red Ledger staff writing sports. Doig is involved in PALS and NHS in school. Outside of school, Doig is...