Featured Athlete: Skylar Rucker
Skylar Rucker is a freshman pitcher and shortstop for the varsity softball team. Her goal is to play collegiate softball beyond her high school years.
Pre-Game: 
Pre Game Hype Song: "Goofy Goober Rock"
Favorite Netflix Show: Grey's Anatomy
Favorite College Team: Oklahoma
Favorite Professional Athlete: Baker Mayfield
Post-Game:
The Red Ledger: What's your favorite memory from your entire softball career? Why?
Skylar Rucker: I think my favorite memory was during travel ball when my team was in the Tulsa invitational tournament. We were playing a [team] that we wanted to beat more than anything, and with just about 10 minutes left in the game, we were tied, and I was up to bat with I think one runner on [base]. I then hit a home run to break the tie. After I hit my homerun, my teammate hit her first one right after me, and it was just so fun being able to celebrate that win with the team.
TRL: Do you want to play softball at the next level? Why?
SR: Yes, I want to play softball at the next level. It has always been a dream of mine to play the game I love throughout college, and hopefully be a role model for someone younger.
TRL: Why did you start playing softball and when did you start playing?
SR: I started playing softball before I can remember, and I started playing because the game of baseball and softball has been in my family's life for a long time, so my parents started to teach me how to play at a young age, and it just became one of my passions.
TRL: What club team do you play for?
SR: I play for Texas Bombers NTX 16 Gold Owens.
TRL: What's the biggest difference between school and club softball?
SR:  The biggest difference is the pressure and culture. The pressure for school is a little higher than travel ball because in travel you don't have state championships and district championships. There are big national tournaments, but it's not the same. Also, in high school, the connection and culture you have with your team is so much different than travel. We are much closer and are practically family because we are together every day for multiple hours, and we know almost everything about each other. I mean my travel team is my family too, but it is still just a different type of connection.
TRL: Who are some of your biggest supporters in softball? Why?
SR: My family and Coach Lopez. My family has always been by my side in this sport and have always come to my games to support me. They always try to push me to be the best I can be, and I appreciate them more than anything. Without them, I wouldn't be the athlete I am today. Coach Lopez is also a big supporter for me because he has helped me a lot in this high school season and helped me improve so much as a player and as a person. Whenever something goes wrong, he is the first one there to help me and the team push past it, but when something goes right he is the first one to hop up and celebrate with us.
TRL: What has been your favorite memory so far in your high school softball career? Why?
SR:  I don't really have a specific memory from this year that is my favorite. Every game day is my favorite memory. I love getting hyped up with the team in the locker room or on the bus before the game. It is always so much fun blasting the music and singing along with it all together and just getting pumped up. During and after the game, is the best too because whenever someone does something good during the game we all get so hyped up and excited, and then after the game, when we win we are so excited and pumped up on the ride home. I just love this team and the culture we have that makes it so fun.
Leave a Comment
About the Writer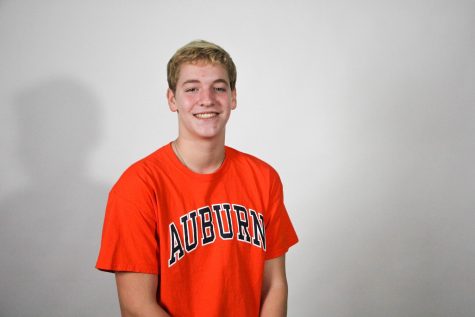 Will Doig, Section Editor
Entering his farewell year, senior Will Doig is excited about becoming a sports editor. Outside of the newsroom, you can find Doig watching any latest...