Featured Athlete: Mason Stein
Senior track thrower Mason Stein competes in shot put for track and field where he recently received seventh place at UIL regionals. He plans to attend Texas A&M in the fall to become a walk on for the track team.
Pre-Game:
Favorite Song: "Toto" (Hold the Line)
Go-to fast food place: Chick-Fil-A
Favorite college: Texas A&M
Dream vacation: Turks and Caicos 
Post-Game:
The Red Ledger: What has been a reason for your success in track? Why?
Mason Stein: In my opinion, there are two main reasons that stand out as helping me be successful the most. One reason for my success is tons of practice and repetition of my throwing form. Throwing requires your form, whether it be glide or rotational, to be near perfect if you want to throw as far as possible. By repeating my form and practicing every day, I was able to better my understanding of how exactly to throw when I get in the ring. The other reason for my success is my coaching. I quite literally couldn't have done this well this year without Coach Donovan. He helped me understand the basics of the rotational throw, and pushed me to become the best thrower I could be.
TRL: Why did you decide to start doing track? Why?
MS: I decided to start doing track and field on a whim. I needed the sports credit to graduate, and I figured that track and field would be a fun sport to compete in with its many different events. When I started throwing I realized that I had made a great choice.
TRL: What is your favorite memory of participating in track your whole career? Why?
MS: My favorite memory that I've made during my track and field career has to be me throwing over 50 feet and winning area in the same meet. This is my favorite memory because one of my biggest goals during my senior year was to finally hit over 50 feet in a competition. Also, being able to come first in area has been one of my greatest accomplishments to date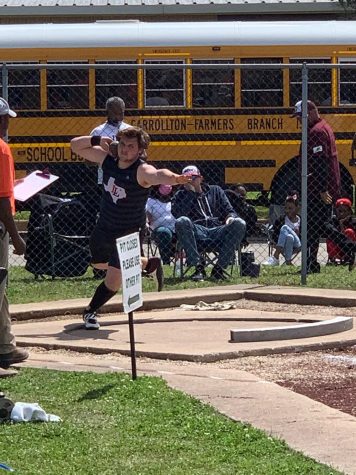 TRL: If you had to play a different sport than track, what would it be? Why?
MS: If I had to play another sport, then it would probably be football. It would be football because I have the body frame that would allow me to play offensive or defensive line and help the team.
TRL: How do you think you matched up against your competition in the regionals? Why? 
MS: I felt that going into regionals, I had a shot of going onto state if I got everything about my form correct in the ring. However, I didn't do as well as I would've liked to at the meet. Sometimes that's just the way that the cookie crumbles though
TRL: What are your future plans for college?
MS: I'm going to be attending Texas A&M in order to pursue a major in Management Information Systems. However, I'll also be attending in the hopes of walking on as a thrower. I have quite a bit of work to do, but I think that over the summer I can push my boundaries and become a better thrower that'll be able to walk on.
TRL: What made you start to participate in the throwing event? 
MS: While searching for a fun event to do in track and field, I came across throwing. When I first went over to the rings, I got to see other throwers in action. I think getting to see others throw really pushed me to try throwing.
TRL: Who are some of your biggest supporters in track? Why?
MS: My biggest supporters are my family, my coach, the other throwers, and the track and field athletes that are part of my grade. My family has always supported me with whatever I endeavored to do. Coach Donovan has been one of my biggest supporters because he's been guiding me through throwing and he understands how difficult it can be to throw correctly. The other throwers are some of my biggest supporters because they understand how throwing works and what it takes to throw correctly. 
Leave a Comment
About the Contributor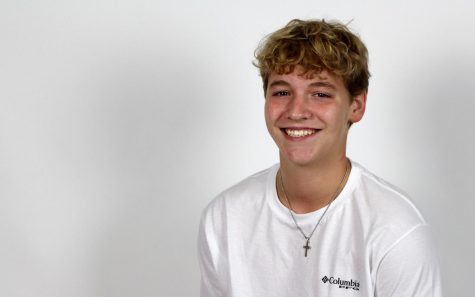 Will Doig, Staff Writer
Junior Will Doig enters his second year on The Red Ledger staff writing sports. Doig is involved in PALS and NHS in school. Outside of school, Doig is...