Tennis advances to UIL regionals
The tennis team brought home district championships in three events after their tournament this Tuesday and Wednesday and will advance to the regional tournament April 27-28. 
"It means a lot to me to be a district champion because I've only ever won district runner up in years before," senior Kelly Zhang. "Winning just shows the hard work, time, and dedication we've put in this season."
The three district championships include, girls' singles, girls' doubles and mixed doubles. Kelly Zhang defeated Wylie East 3-0 in girls' singles, senior Taryn Sutherlin and freshman Sara Omobogie defeated McKinney North 1-3 in girls' doubles. Sophomore Seth Henegar and freshman Madeline Smith defeated Prosper Rockhill in mixed doubles. 
"Being a district champion just means seeing the hard work Sarah and I put in come to fruition," Sutherlin said. "We have been putting in work playing matches and going to practices, so it just was proof that our dedication was worth it."
The teams have prepared for district competition throughout this season with practices everyday, as well as participating in weekly tournaments.
"To prepare for the tournament Sarah and I go to school practices," Sutherlin said. "We also play tournaments almost every week of spring. We know that we always have room for improvement and playing matches is the best way to hone in our skills and weaknesses."
The district tournament was the end of the regular season, and only people who qualified will continue their season. 
"When I won my championship match, I was grateful to earn this title, excited to continue my season to regionals, and really appreciated the support from my coaches and teammates," Zhang said.
Currently, the regional tournament is set to take place at the courts of McKinney Tennis Center. 
"My mindset going into regionals is just going to play my best, and hopefully we can go far," Smith said. "We just have to do our best and work as hard as we have been."
Leave a Comment
About the Writer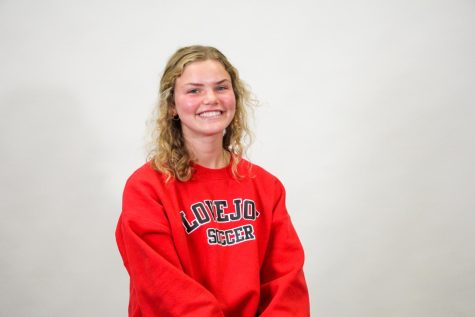 Margo Friloux, Section Editor
Entering her final year on staff, Margo is excited to work with her Co-Sports Editor and Leopard Life alum, Will Doig. This year is bittersweet to Friloux....