Featured Athlete: Payton Pierce
Freshman linebacker and quarterback Payton Pierce recently moved to the district after holding the starting varsity linebacker position at Allen High School. Pierce received offers to Tulsa and Missouri, and is a FBU Adidas Freshman All American.
Pre-Game
Least favorite offseason workout:  Sled pushes and pulls
Teammate you would want to be stranded on an island with: Jared Roberts
Position: Linebacker and quarterback
Athlete you look up to: Luke Kuechly or Ray Lewis 
Years of experience: Since second grade
Favorite sport besides football: Wrestling
Favorite college team: Arkansas
Pre-game rituals: Text dad before game and pray
Favorite flavor of Gatorade: Glacier Cherry
Post-Game
The Red Ledger: What are your future goals, football or otherwise?
Payton Pierce: To play division one football, and then to go play in the NFL is my ultimate goal. [I want to] have a good career in the NFL.
TRL: Who inspires you and why?
PP: My brother inspires me because he's a good leader, and he sets a good example for me, [and] the person who I want to be when I grow up. He's a good example [of someone] who I should aspire to be.
TRL: What injuries have you had throughout your career that have impacted you as a player? 
PP: This year, I had three injuries; I tore my hamstring, had a messed up shoulder, and had a hurt knee. It taught me how to care for others and care for the team more than myself because even though I was in pain, it was best for the team for me to keep playing instead of getting surgery. I got better, and it was all for the team.  
TRL: What has been your experience moving into the district? 
PP: It's been really good. Lovejoy has been really fun. Everyone's super nice, and I'm super excited for next year's football season. I'm glad I met a bunch of people.
TRL: What is it like to be a varsity starter as a freshman at Allen?
PP:  It was crazy. It was really eye opening and really fun and it's super exciting, just all the above. It is pretty crazy, it is pretty awesome.
TRL: What goals do you have for this season?
PP: The ultimate goal is to win state. That's the first goal. it always is. [Also to] make everyone else around myself better, make myself better and just grow as a man and as a player.
TRL: What do you enjoy about football?
PP: I enjoy the physicality, and the team aspect of how we get to play with each other for one ultimate goal. If you're down, you have someone that can pick you up or help you, and you don't feel like doing something. You have a teammate to help you, and then you have another shoulder to rest on. You have other players helping you.
TRL: What is your biggest football accomplishment so far?
PP: Honestly, I think it's being one of the leaders on my team last year and really kind of taking over a team with guys that are older than me. My biggest accomplishment is people that are older than me looking up to me and trusting me to lead them and help them.
TRL: Describe what an All American is and one that title means to you.
PP: It's being selected as one of the top players in America, and then being recognized by getting invited to be on all American teams. I think it's pretty cool but it's ultimately not what I play football for. It's nice to be recognized for something that you accomplished and [having] people seeing your success. but ultimately I think it's like something I can tell people I did but it's not that big of a deal.
Leave a Comment
About the Writer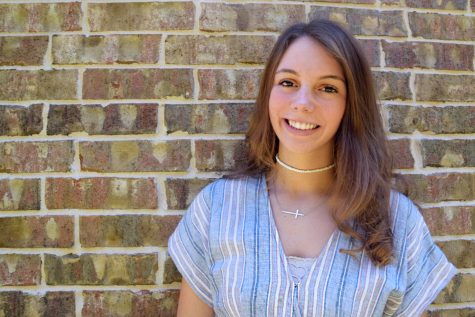 Katie Dolberry, Section Editor
Heading into her second year on staff, senior Katie Dolberry is excited to take on the role of sports editor and photographer. She would like to pursue...