Featured Athlete: Sydney Bardwell
Sydney Bardwell is starting catcher for the varsity softball team. This is Sydney's second year on the team. Sydney not only plays for the school, but also for a club team outside of school. Sydney's goal is to play D1 softball in college.
Pre-Game:
Favorite Pre-Game Song: "Imma Be" by Black Eyed Peas
Favorite Show: "Spongebob"
Go to fast food place: Chick-fil-a
Favorite college softball team: Oklahoma Sooners
Post-Game:
The Red Ledger: How has your experience been so far on the team as a starter since freshman year? Why? 
Sydney Bardwell: My experience so far has been a blast. The upperclassmen took me under their wing when I first made varsity as a freshman, and I look up to them so much. I'm a very competitive person, who loves to play and hates to lose, so starting since freshman year has been such an honor.
TRL: How do you think the team has played so far this season? Why? 
SB: We are a very young team with only two seniors, and I'm so proud of how we have played. Having played select for years with many of my teammates makes us a solid and competitive team. We are currently undefeated in district play, and I'm so excited for what this season holds for us. The amount of talent and skill on this team is unbelievable and we have so much potential.
TRL: What's your favorite memory as a player since beginning as a freshman? Why? 
SB: My favorite memory is definitely when we were playing at Allen Station my freshman year, and I hit a ball off the very top of the left field fence. I remember being so mad it didn't go out that my very next at bat I hit it right back to the same spot in left field, and it ended up being my first high-school career home-run. This moment was so special my freshman year because the feeling of going back into that dugout with everyone cheering you on is the best feeling in the world. 
TRL: How do you like the new coach so far? Why? 
SB: Coach Lopez is a compassionate, but tough coach, who knows exactly how to motivate us in the right ways. There's not one negative thing I could say about Coach Lopez. He's our biggest cheerleader on the third baseline and brings so much positive and competitive energy into the dugout. He pumps us up and makes us want to fight and win every pitch. The district picked a perfect new coach for this program, and I can't wait for the next two years I have with him. 
TRL: What are your expectations for the season? Why?
SB: My expectations for the season is to obviously win district, make it to the playoffs, the semis, and to state. I also want to continue to grow as a team and build my leadership skills to prepare me for the next two years.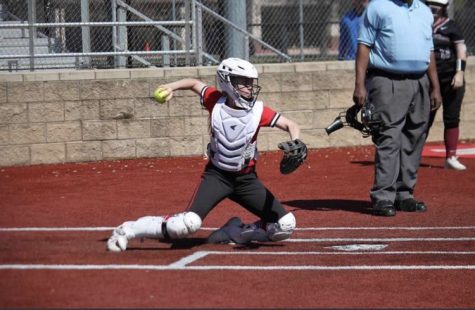 TRL: Do you see yourself playing softball on a D1 level?
SB: Yes, I am currently on a national team in select right now, and recruiting starts this summer when I will be a rising junior. 
TRL: What are the main strengths in your game? Why?
SB: My main strengths are both defense and offense. Depending on the game, I either bat four hole or five holes, so my job is to hit the ball in the gap somewhere, and bring runners in. I would say I'm good at doing whatever I can do to move runners or score them in on the offensive side of the game. My favorite side of the game though is definitely the defensive side. I am the starting catcher, so I love being in charge of the whole field. My favorite part is the feeling after throwing runners out on the bases and helping my pitcher out. 
TRL: What's one of the big differences between club and school softball? 
SB: The major difference in my opinion is the recruitment process involved in select sports. It puts the focus on the individual rather than the team at times. In high school, it is all about the team and being selfless.
TRL: What are your goals for your career at Lovejoy? 
SB: My goals are to put more records up on that left field fence. Coach Lopez talks to us all the time about how we need to leave this program better than how we found it and leave a legacy behind us. So my goals are to win district for the next two years, and eventually make it to state. I also want to build up my leadership skills as I become an upperclassmen, and become a role model for the underclassmen that eventually come up. Most importantly, I want to leave a legacy behind me and do whatever I can to make Lovejoy softball better than how I found it.
View Comments (2)
About the Contributor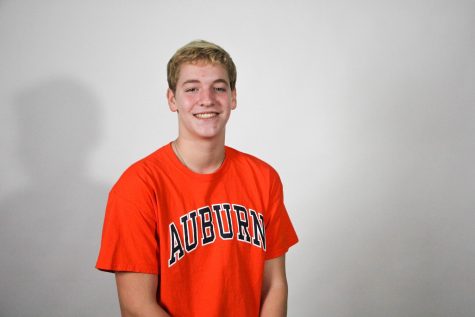 Will Doig, Section Editor
Entering his farewell year, senior Will Doig is excited about becoming a sports editor. Outside of the newsroom, you can find Doig watching any latest...