Featured Athlete: Omari Murdock
Junior Omari Murdock spent his last semester at Allen but previously came from Little Rock Central High School in Arkansas. Murdock plays football as a three star receiver and tight end, basketball as a power forward and runs in the 200m, 400m, and 4×1 relay on the track team. 
Pre-Game:
Favorite pre-game artist: Polo G
Athlete you look up to: DK Metcalf
Favorite Gatorade flavor: Grape
Favorite college team: Oregon
Post-Game:
The Red Ledger: What are your future goals, athletics or otherwise?
Omari Murdock: I'm probably going to go to a [division one] college to either play football or another sport at the college, and then graduate and be the best I can be.
TRL: Who inspires you and why?
OM: My mom inspires me the most. She played sports in college. She ran track, and she always pushed me. She raised me and my sister alone, so that's why she inspires me the most. She always pushes me to be the best I can be.
TRL: How has being a part of a team for so long changed you as a person?
OM: I'm not selfish. I always think about other people before I do anything I do. That's how [being a part of a team] has had an affect on me. 
TRL: What is your favorite memory as an athlete so far? 
OM: I would say winning state in Arkansas. My 10th grade year, I played for Little Rock Central, and in basketball, we won [the 6A] state [championship]. That's probably the best memory I have.
TRL: What has the recruiting process looked like for you?
OM: It has been good. I'm in my junior year, and right now I'm a three star [in football]. I [have] two offers so far, so I'm hoping to bid off of that.
TRL: What are your goals for next season?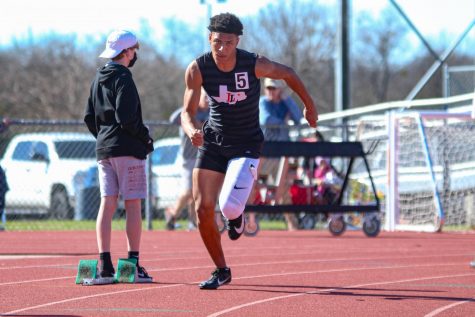 OM: [My goal for next season] is to get to know my teammates with me being new and all and winning state. 
TRL: What is it like to move to the district in the middle of the school year?
OM: This is my first time moving schools in the middle of the school year, but it's been cool because Lovejoy is a smaller school [than the ones I have attended in the past,] so I would say I moved easier. The coaches welcomed me, and the players welcomed me. So, it's all been good. 
TRL: How do you think being a multisport athlete has helped or hurt you?
OM:  I feel like [playing multiple sports has] helped me be more well rounded. The coaches here anyway forced me to do more than one sport, so this is cool. I feel like I'm faster because of track.
About the Photographer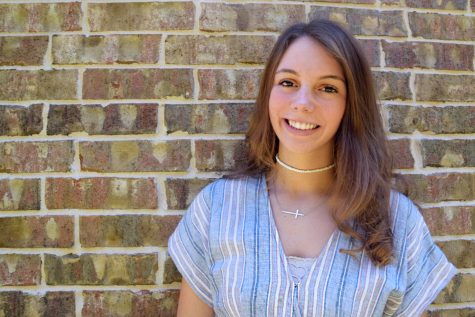 Katie Dolberry, Section Editor
Heading into her second year on staff, senior Katie Dolberry is excited to take on the role of sports editor and photographer. She would like to pursue...