Featured Athlete: Taylor Person
Freshman Taylor Person plays on the girls varsity soccer team. Person also competes in soccer outside of school for FC Dallas ECNL and is working to be able to play in college. 
Pre-Game:
Pre-game meal: Protein bar, any fruit, energy drink
Favorite movie: "Collateral Beauty"
Favorite soccer player: Rose Lavelle
Pre-game music: Pump up/Rap
Post-Game:
The Red Ledger: What made you want to start playing soccer? Why?
Taylor Person: At first, it was just a fun thing to do as I was growing up, but as time moved on, it [became] something I enjoyed. [I] was always excited to get to practices and games. I've always had that drive in me to want to be better than anyone else on the field [and] court, but soccer was just different. I was able to understand [soccer] and move with and around people with the ball so easily. So once I started getting into club teams, it really became what was on my mind 24/7. 
TRL: Who's the biggest influence in your life today? Why?
TP: My mom [is my biggest influence] because she's always there to remind me of the process and what it takes to become the athlete I want to be. I'm constantly put in situations where I have to give more than just 100 percent. She believes in me and knows that I have the capability to do more, give more effort, and be more aggressive.
TRL: When did you start getting interest from college teams?
TP: After I went to my first couple showcases, I started to get a little following on Twitter by [the coaches so they could] keep up with my season, but that's about it. Before COVID-19, some [coaches] would be at our regular season games and showcase games, but because of NCAA rules, I can't really reach out until June after my sophomore year.
TRL: What are your goals for your upcoming freshman season?
TP: Personally, I want to have fun. I've met some incredible people this year that will be gone next year, and I'm hoping to make these next couple of months count. Also as a team it would be awesome for us to make it to the playoffs, and compete for the state title, but first it's all about getting through district. 
TRL: What are some of the strengths in your game?
TP: [ I would] definitely [say] attacking and moving the ball super quick at the other team while they're trying to track back. [It] is not only a strength but an incredible feeling. The rush of the players moving up the field, combing passes, and trying to create scoring opportunities is what we play for.
TRL: If you didn't play soccer, what sport would you play? Why?
TP: [I would play] basketball because to me the sports are very similar in the pace and concepts. In both sports, you can go from attacking to defending so quickly. Basketball is super competitive, and you have to be aggressive and go 100 percent all the time just like soccer. I also played basketball from fourth grade all the way to eighth but stopped this year to focus on soccer. 
TRL: How does soccer outside of school differ from soccer at school?
TP: It depends, at school [soccer] is a lot more social, and I'm able to have more fun while still staying engaged. It's a good learning experience to play with older athletes just like I would in college. Where as for club, it's all about engagement and being coachable. I don't have as much freedom with the ball because I'm going against players who are very quick on their feet and know how to read my movements. [Because of this,] I have to be creative in my decision making, and what I choose to do with the ball.
Leave a Comment
About the Writer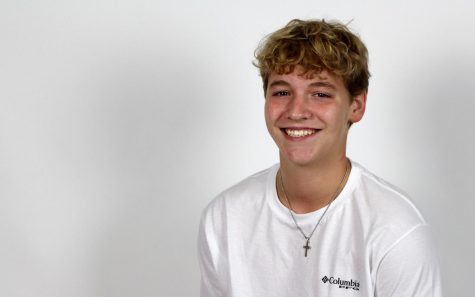 Will Doig, Staff Writer
Junior Will Doig enters his second year on The Red Ledger staff writing sports. Doig is involved in PALS and NHS in school. Outside of school, Doig is...