Featured Athlete: Grant Hu
Freshman swimmer Grant Hu competes in the 100- and 200-meter swim, which he considers one of his top events. Hu went from being afraid of the water when he was young to training for Olympic trials.
Pre Game:
Favorite fast food place: McDonald's
Favorite sport besides swimming: Skiing
Favorite song: "Be Like That" by Kane Brown (feat. Swae Lee and Khalid)
Favorite show: The Blacklist
Post Game:
The Red Ledger: What made you want to start swimming as a sport?
Grant Hu: My parents got me into the sport when I was about four. It's ironic because I was actually afraid of water when I was really young. I've actually done three other sports, but by the time I was eight it was clear that swimming was my main sport. People saw potential in me, and I loved the competition, so I wanted to continue.
TRL: What people in your life today have influenced you to pursue swimming?
GH: A hundred percent my teammates, coach and my dad. They make every day I spend in the pool worth it and fun. Without them, I wouldn't be where I am today. They have encouraged me, supported me, and motivated me to be the best I can be.
TRL: Who is your favorite professional swimmer? Why?
GH: Cody Miller. His vlogs [on YouTube] are really interesting, and I enjoy watching them. He's also a 100 [-meter] and 200 [-meter] breaststroker, which are some of my top events, and he is also a great inspiration to the swimming community.
TRL: What is your favorite part about swimming competitively?
GH: The feeling of accomplishment when you know you've put in the work, and you swim times that meet or even exceed your expectations is extremely satisfying. Besides swimming fast, swimming couldn't be fun without teammates. My teammates are my favorite part of the sport, no question. They're absolutely amazing people in the athletes who helped brighten up the training atmosphere. 
TRL: How does your success drive you to become even better?
GH: My success enables me to look farther and see that there's always room for improvement. However, I think it's my failures that truly motivates me to try my best every day at practice. The combination of these two allow me to be the best I can be.
TRL: If you were to play a different sport what would it be? Why?
GH: I'd definitely do skiing. Skiing is so much fun and I love cold weather. Even though I'm not good at skiing, I think it's a great sport to get involved in.
TRL: What are your goals for swimming in the future?
GH: I'm currently aiming for junior Nationals and eventually National/Olympic trials. I'm also aiming to go to a D1 school. Besides time standards, I also hope that by the time I finish my swimming career, I've become a better athlete, which means that my mental and physical strength have increased exponentially since I first began swimming.
TRL: What has been your most prized memory from swimming over the years?
GH: The summer of 2017 TAGS (Texas Age Group Championships) when I was eleven and swam a time that placed me sixth in the nation in the 200 IM.
Leave a Comment
About the Writer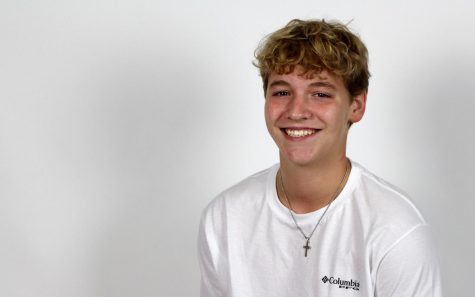 Will Doig, Staff Writer
Junior Will Doig enters his second year on The Red Ledger staff writing sports. Doig is involved in PALS and NHS in school. Outside of school, Doig is...