Football heads into battle of undefeated
The Leopards (7-0) won Friday's senior night game after a 70-7 win over the Lake Dallas High School Falcons (1-6). This week, the team will travel to Memorial Stadium to face the Frisco High School Raccoons (6-0).
"I think the team as a whole executed on all cylinders," senior linebacker Keith Qualls said. "I feel like the offense, defense and special teams all were able to do their parts due to such a great week of preparation."
The team had 502 yards in 55 plays, this averages out to just shy of a first down every play. According to Corners Coach John Fee, though the team played a good game, there are always ways they can improve. 
"We can [be] better with our eyes and [be] more physical," Fee said. "Communication, getting lined up fast, and focusing [will be the keys to success against Frisco.]"
Senior receiver Reid Westervelt and senior running back Isaiah Smith led the team in touchdowns against the Falcons with three touchdowns each. Senior defensive back Chief Collins followed with two pick-sixes.
"The energy [we had] against Lake Dallas [is] what we need to carry over throughout the rest of the season," Qualls said. "We were playing for each other, and that's what it's all about."
The winner of the game on Friday will secure a home playoff game. The game is CW33's "High School Football Showdown" of the week and can be watched live on a DFW TV or online. 
"It is a very big game for us," senior offensive lineman Gavin Burkhardt said. "They beat us the last two years, so we take it personally. No matter what the other teams standings are, we still need to go on the attack. This game plays a huge role in winning the district championship, and obviously, home field advantage in the playoffs is a huge advantage."
 In Qualls' opinion, Frisco will be a big test for the team to show the preparation and hard work they have put in all season.
"This game is huge," Qualls said. "We must stay locked in and focused this week [to] ultimately be 1-0 when it is all said and done. I have complete confidence in our team, and I know that the whole team is excited for the challenge and ready to play on Friday night." 
The Leopards and the Raccoons are the only two teams in the district that are undefeated. Frisco is ranked No.5 in district 5A Division II.
 "[Frisco is] just the next victim of the hunt," Fee said. "Hunt. Kill. Win. Everyday."
Leave a Comment
About the Writer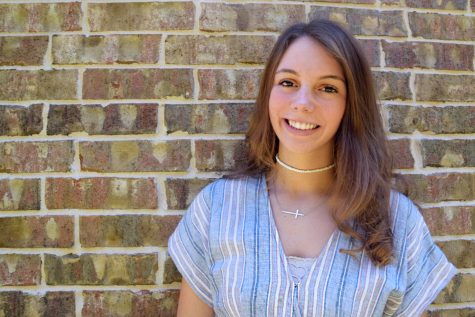 Katie Dolberry, Section Editor
Heading into her second year on staff, senior Katie Dolberry is excited to take on the role of sports editor and photographer. She would like to pursue...