Volleyball remains undefeated after playing McKinney North, Denison
On Friday, Nov. 6, volleyball defeated McKinney North and yesterday swept Denison. Both were straight set wins. The team has three more games until playoffs, and they are preparing for their future opponents. 
"McKinney North was the second place team in our district," head coach Ryan Mitchell said. "They were really the most competitive team in our district, so we knew they were going to be the biggest challenge. For us to come out and win in three at their place was a big deal."
The team prepared specifically for their second game against McKinney North by watching film and recognizing their team's tendencies. They worked on practicing a certain defense that they found to work in their first game against McKinney North.
"From watching the film, we were able to find a few tendencies we felt we could capitalize on," junior defensive specialist Maci Perkins said. "We would also practice defense of the middle plays that we knew they loved to run since we knew they relied a lot on their middle for offense."
The team used the game against Denison as practice and preparation for the future.
"Denison is the last place team in our district," Mitchell said. "It gave us an opportunity to give kids that are going to be vital to our success next year some time on the court. Even though the game was a blowout, it was productive for the program." 
The team is going to use their three upcoming games to prepare themselves mentally for playoffs and their upcoming opponents. 
"Since our district isn't all the best teams, we aren't getting much competition," junior defensive specialist Brooklyn Lloyd said. "These extra games and reps are for sure helping us grow. We are preparing for the playoffs during practice and doing the extra work to make sure we are ready." 
Going into the playoffs, the team has a goal to finish the season undefeated and win the state championship again. 
"We hope to finish out the season undefeated and win a state championship," Perkins said, "We practice hard every day, making every rep count we've met and talked as a team to set goals and to talk about what we can improve on on and off the court."
Leave a Comment
About the Writer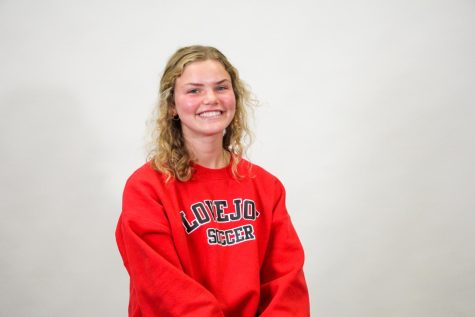 Margo Friloux, Section Editor
Entering her final year on staff, Margo is excited to work with her Co-Sports Editor and Leopard Life alum, Will Doig. This year is bittersweet to Friloux....